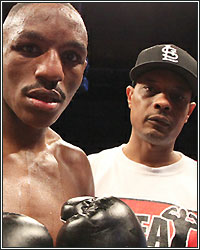 "Yeah, that name and that date has been mentioned to me as a possibility. That's definitely something that we would be interested in," stated world-class trainer Kevin Cunningham, who confirmed a report on Boxingscene.com regarding a potential November 30 clash between IBF welterweight champion Devon Alexander and undefeated contender Shawn Porter. Although the fight has yet to be finalized, there's a strong possibility that it will take place in Alexander's hometown of St. Louis, Missouri. Despite the change in date and opponent, it's a matchup that Cunningham looks forward to thanks to some unfinished business between both fighters and trainers.

"The date is fine. We've already been doing light training and strength training, so the November 30th date won't be a problem," explained Cunningham, who for months was under the impression that his fighter would be facing former jr. welterweight champion Amir Khan on December 7. For reasons that have yet to be revealed, however, it appears as though Khan has decided not to fight on that date, leaving Alexander without an opponent. With the future plans of Khan uncertain, Golden Boy Promotions appears to be moving forward, giving Alexander a new date and a new challenger for his title.

"I think Shawn is a tough, solid contender. We'd love to go back home where we got a big following. If a deal is done and completed, we look forward to the fight. Being as though Ken Porter did an interview with Boxingscene a couple months back saying that they would love to get a hold of Devon and saying he's been wanting to get revenge and fight Devon for the last 18 years since Devon beat Shawn when they was 8 years old, if this fight does come to fruition, they can get that opportunity they said they been waiting on all those years," Cunningham continued. "Hopefully the fight gets done. Devon spanked him when they was 8 and 9 years old and he'll spank his ass again!"
[ Follow Ben Thompson on Twitter @fighthype ]