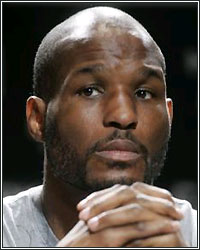 "I'm coming to show you all that not only am I different and I don't get tired of doing what I do. I love winning opportunities and situations to win...I'm coming to defend my title and look for bigger things next," stated IBF light heavyweight champion Bernard Hopkins, who spoke at the final press conference leading up to his title defense this Saturday against top contender Karo Murat. Check out what else he had to say!

Bernard "The Alien" Hopkins, IBF Light Heavyweight World Champion

"I'm coming to show you all that not only am I different and I don't get tired of doing what I do. I love winning opportunities and situations to win.

"Saying 'I'm getting old,' is getting old.

"[Gabriel] Rosado and "Kid Chocolate" [Quillin] have the opportunity to steal the show. The undercard is so great. The co-main event is the middleweight belt and it is in good hands.

"I'm only doing what some of the greats have done before me in any sport. Hit and not get hit. Doesn't mean to run.

"I am different. I am not you. So what do you do if you're a smart man with your bought degrees? You sit, you listen, you learn and you change your own ignorant ways.

"I'm in an almost 10-year [knockout] drought, maybe that's due to my age. I haven't had a knockout since I fought De La Hoya.

"I was loyal in the streets and was loyal in the corporate world. When they come to me for that fountain of knowledge, I have an opportunity and an obligation, to give them the pure water because I'm not polluted.

"[To Peter Quillin, Gabriel Rosado, Deontay Wilder and Zachary Ochoa] You are the future. You hold the power. I'm here making historic fights when they can happen. The bigger the name, the bigger the event, obligations are obligations and I if want to stay in the race at this age, the belt seems to be the carrot that the young guys want to have.

"If you take a page out of every champion's book, something that can help you in your career, is to learn how to be multi-talented in many things.

"If you could learn the game of chess early, so you don't go through suffering, you'll be advanced in your careers because your opponents only have chess boards.

"If you learn to play chess instead of checkers, and wait that 10-15 years, you'll be mega superstars. You'll be advanced beyond your peers, because they just have a checkerboard."

"I am a business man, don't get misconstrued by anything. Because I have belts lined up in the trophy case.

"I'm an alien, I don't get old if they're waiting for that.

"If it was a dollar to fight him, you'd see me up here promoting like I was getting 20 million. Why? Because I have a better plan.

"I'm coming to defend my title and look for bigger things next.

"Ray Robinson and Sugar Ray would be considered boring, because they're not TV friendly. Because they're smooth and they don't get hit."

Naazim Richardson, Bernard Hopkins' Trainer

"I've watched a lot of these young guys, 'Bronze Bomber', 'Kid Chocolate' and Rosado, that sounds like a dish, you know they're going to mix it up.

"I can't call a trainer to ask him, 'What did you do with your 50-year-old fighter to get him ready for a world championship? What did you do when you were getting a 50-year-old ready for a title? This is unchartered territory. Even the great living trainers, Buddy McGirt, Freddie Roach, I can't call any of them and say what did you do with your 50-year-old?

"You've never seen a Hopkins fight, win or lose, where you couldn't find someone in the room thought Hopkins won that fight. He's been competitive at every point.

"We are starting to lose an understanding of what boxing is. I'm watching certain people get on networks and down talk kids who are trying to box smart. Why would you ever downgrade someone for something intelligent?

"There's a time for things, come Saturday it might be time push the envelope. I take nothing away from Karo Murat except for the victory. Tough young man, you can't underestimate a man like this, you don't know a lot about him. He comes out of a sport where he gets kicked in the face, so you know a punch in the face isn't going do anything to him.

"You swim without getting wet, you want to box without getting hit.

"Appreciate the art form that still exists. With this particular athlete I want you to watch and study and see that this is boxing, not fighting."

Deontay Wilder, WBC Continental Americas Heavyweight Champion

"I'll tell you right now, when my name is being announced in the future, everybody is in that building will stand and applause, because they will be applauding the heavyweight championship of the world.

"Everyone wants to be a heavyweight champion, and I'm going to bring it back to America.

"I'm excited to be on the East Coast, in New York, I'm super pumped I'm super excited. I've said many times I love my job, it's a dangerous sport we sign up for. But I love this job, I don't see me doing anything else but knocking people out.

"Guys don't want to see me in the ring, but this guy Firtha took the opportunity. I heard what you said, 'That Wilder is good he hits hard, but he has never been hit and I intend to hit him.' I respect that, he says he's coming to fight not lay down.

"I want to say it's a big pleasure to be fighting on the legend Bernard Hopkins card, the things this guy has done, the thing that gets me is with the age he is to go the distance with the younger guys. That motivates me to get in the gym."

Zachary Ochoa, Brooklyn Light Welterweight Rising Star

"Its an honor to be fighting on Bernard Hopkins undercard. I've always looked up to him. Bernard is a very clean person in and out of the ring and that's the reason he lasts so long in the sport."

"He doesn't just rely on his talent, he relies on the basics. I go to the gym everyday work on my basics, work on my talent, you got to keep everything sharp all the time. We train hard for everybody no matter who it is, we don't sleep on anybody."

Richard Schaefer, CEO of Golden Boy Promotions

"When you look at the fighters on the card including, the non-televised fights and opening bouts, you see that boxing is about opportunities.

"To see Wilder, Quillin, Hopkins on same card and then you look at who they fight. Karo Murat, Gabriel Rosado, and Nicolai Firtha you see fighters who know that this is their opportunity, the opportunities that fighters are waiting for.

"You might not be familiar with these three guys [pointing at Murat, Rosado and Firtha], but they all have the same in common. They know that a win on Saturday night will be a life changing moment for them, and that in itself makes them that much more dangerous.

"Hopkins knows that, and so do Quillin and Wilder. That's why I expect great action at Boardwalk Hall on Saturday.

"For the price of a movie ticket you are going to be able to see this great card.

"Watching Bernard Hopkins continue making history... history doesn't come that cheap.

"Bernard Hopkins is one of the greatest ever to lace up the gloves."

Chris DeBlasio, Vice President of Sports Communications at SHOWTIME Sports

"We're excited to be back at Boardwalk Hall again. Boardwalk Hall is a national historic landmark and has hosted everything from Miss America pageants to Democratic National Conventions, to a Beatles concert and some of the most dramatic and significant fights in boxing's rich history.

"2013 has been a banner year for boxing on our network. Through our partnership with Mayweather Promotions and Golden Boy Promotions, SHOWTIME executed the most successful pay-per-view event in history. On our network, we have televised two of the top four most watched bouts on record for the nearly thirty-year history of boxing on SHOWTIME. And for the second consecutive year, we have increased our viewership average by over 30 percent. That's an unprecedented and unheard of number in television. So, we're very proud to be here and we expect the excitement to continue on Saturday night."

Aaron Davis, Commissioner, New Jersey State Athletic Control Board

"We have the best referees and best judges. There's a lot of things going on in boxing and sometimes people don't give their best and the referees, judges, and time keepers I hope on Saturday night you will see the best.

"We are really excited about this fight."

# # #

Hopkins vs. Murat is a 12-round bout for Hopkins' IBF Light Heavyweight World Championship, presented by Golden Boy Promotions in association with Caesars Atlantic City and sponsored by Corona and AT&T. In the co-main event WBO Middleweight Champion Peter Quillin puts his title on the line against Gabriel Rosado in a 12-round bout. Plus, opening the tripleheader, WBC Continental Americas Heavyweight Champion Deontay Wilder will face Nicolai Firtha in a 10-round showdown. The SHOWTIME CHAMPIONSHIP BOXING telecast begins live at 9 p.m. ET/PT and is available in Spanish on secondary audio programming (SAP). Preliminary bouts will air live on SHOWTIME EXTREME® beginning at 7 p.m. ET/PT.

Tickets priced at $300, $150, $75, $50 and $25, not including applicable service charges, are on sale now and can be purchased at the Boardwalk Hall Box Office, all Ticketmaster locations, by calling 800-736-1420 or at www.ticketmaster.com.