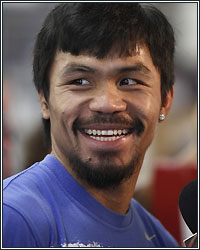 "I feel that and that's what I'm trying to do," stated multi-division world champion Manny Pacquiao when asked by HBO commentator Max Kellerman if he felt that he was all the way back after suffering back-to-back losses to Juan Manuel Marquez and Timothy Bradley. Immediately following his dominant 12-round unanimous decision victory over Brandon Rios, Pacquiao assessed his performance.

"I tried to finish the fight, but my opponent's very tough, so give credit to him," Pacquiao explained, making it clear that he felt he did enough to secure the victory without having to put himself at risk of being knocked out again. "It's the last round, you know. I was winning the whole round and I don't have to get careless in the last round, so I back off and, you know, just finish the round."

"I tell you, he hit me [with] a good punch...I hurt. I forget the round, but I think it's the 5th round," he added. "My time is not over yet. Rios, he's not an easy opponent. He's a good fighter and strong fighter. I consider this fight as one of the toughest fights in my career."
[ Follow Ben Thompson on Twitter @fighthype ]