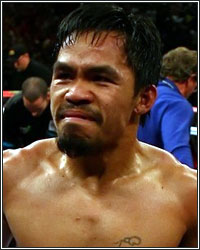 It appears that Manny Pacquiao's tax issues in the Phillippines may be getting him more attention than he wants. Sources close to the information have informed us that the Internal Revenue Service [IRS] recently placed a levy on bank accounts in Manny Pacquiao's name here in the United States. According to one source, the amount of the levy is upwards of $18.5 million. When contacted for a statement on the issue, a representative from the IRS media relations office simply replied, "Under the federal tax law, federal employees cannot disclose tax return information."

This latest news only adds to the growing financial turmoil that the 8-division world champion is currently dealing with. Immediately after his dominant unanimous decision victory over Brandon Rios, Pacquiao's bank accounts in the Philippines were frozen when the Bureau of Internal Revenue revealed that he owed 2.2 billion pesos [roughly $50 million] for unpaid taxes in 2008 and 2009. It's a claim that Pacquiao, as well as his promoter Bob Arum, vehemently deny, insisting that taxes were indeed paid in the United States during that time period. According to BIR commissioner Kim Henares, however, the Sarangani congressman has yet to provide sufficient documentation that proves his case.

According to reports, of the 22 banks that the BIR contacted, only 2 of them held deposits for Pacquiao, which totaled 1.1 million pesos [$25,200]. In addition to freezing his bank accounts, the BIR also placed a lien on Pacquiao's $9 million mansion in the Philippines' upscale residential community of Forbes Park. Four months ago, it was revealed that Pacquiao was selling his $2.7 million home in Los Angeles, which he purchased in 2009 shortly after knocking out Ricky Hatton. As of this writing, the house is still up for sale. According to another source, Pacquiao also recently sold his $220K Ferrari Italia 458, which he purchased in 2011 prior to his third encounter with Juan Manuel Marquez.
[ Follow Ben Thompson on Twitter @fighthype ]