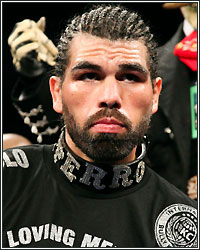 Sources close to the information have informed us that jr. middleweight contender Alfredo Angulo is the frontrunner to face former jr. middleweight champion Saul "Canelo" Alvarez when he makes his return to the ring on March 8 at the MGM Grand Garden Arena in Las Vegas, Nevada. Scheduled to headline his own pay-per-view card, Canelo was hoping to face fellow former jr. middleweight champion Miguel Cotto. Unfortunately for both Canelo and Golden Boy Promotions, Cotto appears more interested in challenging middleweight king Sergio Martinez in hopes of becoming Puerto Rico's first four-division world champion.

Golden Boy Promotions CEO Richard Schaefer recently told Boxingscene.com that he'll be meeting with Canelo this week to discuss backup plans. "I'm going to be seeing Canelo next week and we're going to talk about it in San Antonio. [Things will be clear next week] or the week after. I want to sit down with him, but obviously we don't want to wait," he explained before revealing that he has three potential opponents in mind. "Yes, Carlos Molina is one. That's what I'm going to talk to him about. But there are two others that I have in mind, that I frankly want to discuss with [trainer/manager] Chepo [Reynoso] and Canelo first before I talk about them [publicly]. There are three names and then it's going to be up to them to tell me which of the three names."

While we're sure Canelo and his team have the final say when it comes to opponent selection, according to one source, representatives for Angulo have already had serious discussions with Golden Boy Promotions about the March 8 bout. "They were in heavy talks just recently. He's in the running," one source commented. Considering that Canelo will be looking to rebound after his disappointing performance against undefeated pound-for-pound king Floyd Mayweather, Golden Boy Promotions would be wise to match him with a fan-friendly fighter like Angulo, especially considering that the bout will take place on pay-per-view. Though Schaefer has previously mentioned Erislandy Lara as a possible opponent, neither he nor Molina is the type of name that will bring the same type of box office success for Canelo as the all-action Alfredo Angulo.
[ Follow Ben Thompson on Twitter @fighthype ]