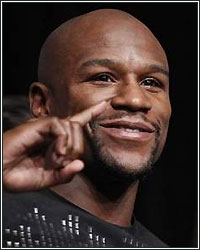 For the past 7 years, undefeated pound-for-pound king Floyd Mayweather has fought exclusively in his hometown of Las Vegas, Nevada. That trend could be coming to an end in the very near future, however. According to Showtime Sports executive vice president Stephen Espinoza, there's a very strong possibility that Mayweather could be fighting at the Barclays Center in 2014.

"Mayweather is very conscious of wanting to go out with a bang. The Canelo fight was the first one of those. He wants each of these last fights to be huge, memorable events. One way to do that is switch up the venue," Espinoza explained to Kurt Badenhausen of Forbes.com. "New York is one of few places that could help elevate a Mayweather fight more than it already is. Floyd is intrigued by being the biggest and the best and being a trailblazer. Coming into the New York market in a way that no one has before would be very appealing."

Though his next opponent is still unknown, Mayweather has repeatedly stated that he plans on fighting two times next year, with the first bout taking place on May 3, 2014. Considering that New York has a state income tax of 8.82%, compared to no state income tax in Nevada, it certainly would be surprising to see "Money" Mayweather fighting anyplace other than the MGM Grand Garden Arena, which has hosted his last 8 fights, including his blockbuster bouts with Saul "Canelo" Alvarez and Oscar De La Hoya. That being said, according to Espinoza, the Barclays Center has indeed made an offer to representatives of Mayweather. "Barclays presented [the Mayweather camp] with a very attractive package in terms of the marketing commitment and the creative vision the Barclays Center has four this event," Espinoza added.
[ Follow Ben Thompson on Twitter @fighthype ]