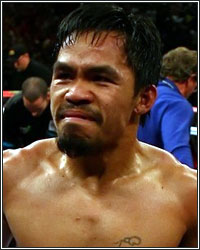 Last week, FightHype.com reported that sources had informed us that the Internal Revenue Service [IRS] recently placed a levy in the amount of $18.5 million on bank accounts owned by multi-division world champion Manny Pacquiao. Earlier today, TMZ confirmed that report when they revealed that they had obtained official documents proving that Pacquiao failed to pay taxes from 2006 to 2010 in the amount of $18,313,668.79.

According to TMZ, the yearly breakdown is as follows:

2006 -- $1,160,324.30
2007 -- $2,035,992.50
2008 -- $2,862,437.11
2009 -- $8,022,915.87
2010 -- $4,231,999.01

When Pacquiao's adviser, Michael Koncz, was questioned about the story that ran on FightHype.com, he simply replied, "We do not owe $18 million." Interestingly enough, Pacquiao's promoter, Bob Arum, claimed just last month that Pacquiao's taxes in the United States had indeed been paid. "For each of Manny's fights that occurred in the United States, including those in 2008 and 2009, Top Rank withheld 30 percent of Manny's purses and paid those monies directly to the Internal Revenue Service via electronic funds transfer," Arum told Dan Rafael of ESPN.com roughly two weeks ago. "Top Rank has deposit confirmations for each payment. Top Rank has done the same for all U.S. endorsements it has facilitated on Manny's behalf."

For whatever, it looks like the IRS disagrees with Bob Arum's recollection of events. FightHype.com also learned that a lien was recently placed on one of Pacquiao's properties in Los Angeles, California. This latest news only adds to the growing financial turmoil that the 8-division world champion is currently dealing with.
[ Follow Ben Thompson on Twitter @fighthype ]