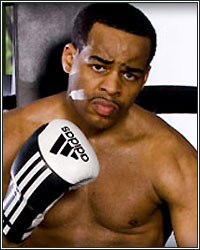 ESPN is headed to Tacoma, WA where they will set up shop at the Emerald Queen Casino's Battle at the Boat 94 while featuring Halquist Productions' Zahir Raheem (34-3-0, 21 KOs) in a junior welterweight contest versus Bayan Jargal (17-4-3, 11 KOs). Headlining the action will be an explosive matchup between Arash Usmanee (20-1-1, 10 KOs) and Juan Antonio Rodriguez (25-4-0, 23 KOs).

Tickets for Battle at the Boat 94, scheduled for Friday, January 10th at the Emerald Queen Casino are available and can be purchased at the EQC box office and online through Ticketmaster. Prices start at $35.

In the three fights since signing with Halquist Productions, Raheem has proved that he's committed to pursuing a world title in his comeback to boxing. Since he's returned, Raheem has gathered a large fan base in the Pacific Northwest with exciting victories over Santos Pakau (28-8-2, 11 KO), Justin Juuko (45-12-1, 30 KO), and Tim Coleman (19-4-1, 5 KO) while fighting out of the Emerald Queen Casino. None of those fights went past the fourth round including his latest victory when Raheem defeated Coleman with a second round TKO in November.

Raheem is currently ranked #3 in the NABA, #4 in the NABO, #7 in the USBA, and #17 in the NABF.

A victory over Jargal in front of a live national audience will give Raheem his first big push back into talks about being a real contender in the junior welterweight division. Raheem, however, is no stranger to being in the spotlight as many fans remember him shocking the world in 2005 with his victory over Erik Morales ultimately earning him Ring Magazine's upset of the year award.

"We are very excited to be working with Friday Night Fights once again," said promoter, Brian Halquist." We have now been working with Zahir for over a year now and are absolutely ready for a national showcase. Being 3-0 with 3 knockouts, Zahir has done everything we have asked of him and more. After Zahir defeated Morales there were always questions surrounding a Raheem vs. Pacquiao fight leaving behind some unfinished business. He belongs on the world stage and that's where we're going to take him."

Arash Usmanee, who will be fighting in the main event, last appeared on ESPN 2's Friday Night Fights when he challenged Argenis Mendez (21-2-1, 11 KOs) for the IBF super featherweight title. The outcome was left in the judges' hands where they together ruled it a majority draw in a fight that many thought Usmanee had clearly won.

Doors for Battle at the Boat 94 will open at 5 PM. The televised portion of the event will start at 6 PM sharp followed by the undercard. For more information about Battle at the Boat 94 and all other Halquist Production events please visit the official Facebook and Twitter Pages of Halquist Productions, Battle at the Boat, and CageSport MMA.