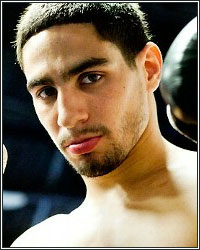 It's Monday. Welcome back for another edition of Observe and Fight, The Boxing Observer's compilation of observations and random thoughts from the week that was in boxing. As we head into 2014, it's time to reflect on the year that was in boxing with our 2nd annual Year End Awards! Without further ado, check out the latest observations from The Boxing Observer, David Kassel.

Muhammad Ali Award (Fighter of the Year): Danny Garcia

2013 was one of the best boxing years in recent memory, and the biggest reason is because so many big-time fights took place. With big-time fights comes big-time fighters and performances. While Garcia only fought twice (and I usually favor fighters who fought at least 3 times), Danny "Swift" continued to defy the odds. In April, Garcia earned a hard-fought decision against Zab Judah in a fight Garcia controlled most of the way until the late rounds, and then, showed serious grit and determination to make it through the fight. Then, in September, as the co-feature on the undercard of Mayweather vs. Canelo, Garcia was the underdog (a role which he has played many times before) against the man who was rolling through the junior welterweight division, Lucas Matthysse. While most viewed this as a 50/50 fight, the consensus was that Matthysse was going to continue his streak of knockouts and become the undisputed junior welterweight champion of the world. Garcia had other plans instead, as he and Matthysse gave fight fans everything they wanted and more. In the 11th round, Matthysse went down for the first time in his career in what proved to be a memorable fight. Garcia has truly earned the respect of the boxing world, and fans everywhere are excited about his eventual move up to the talent-rich welterweight division. So many other fighters could have easily earned this award, but because Garcia fought all the naysayers and continued to defy the odds, he is most deserving of the Fighter of the Year Award!

Runner-ups (in no particular order): Floyd Mayweather, Timothy Bradley, Adonis Stevenson, Guillermo Rigondeaux, Shinsuke Yamanaka, Roman Gonzalez, Gennady Golovkin

Smokey from Friday "You Got Knocked the F*** Out" Award (Knockout of the Year): Gennady Golovkin KO (3) of Nobuhiro Ishida

This year brought forth another slew of great candidates for Knockout of the Year, but when Golovkin knocked Ishida through the ropes and out cold, it was downright scary. Fans knew Golovkin was a big puncher, and we knew that fight was going to end by knockout, but nobody expected the type of knockout GGG produced.

Runner-ups: Lucas Matthysse KO (1) of Mike Dallas Jr., Adonis Stevenson KO (1) of Chad Dawson, Stephen Smith KO (5) of Gary Buckland, Javier Fortuna KO (1) of Miguel Zamudio, Tony Thompson TKO (2) of David Price, Lucas Matthysse TKO (3) of Lamont Peterson, Daniel Jacobs KO (3) of Giovanni Lorenzo, Dodie Boy Penalosa Jr. KO (3) of Nimithra Sithsaithong, Sergey Kovalev KO (2) of Ismayl Sillakh, Curtis Stevens KO (1) of Saul Roman, Mikey Garcia TKO (4) of Juan Manuel Lopez, Deontay Wilder KO (1) of Siarhei Liakhovich, Jhonny Gonzalez KO (1) of Abner Mares

Thrilla in Manilla Award (Fight of the Year): Timothy Bradley UD 12 over Ruslan Provodnikov

To give you folks an idea of how little interest I had in this fight, my wife and I were over at a friend's dinner party and I had the DVR set to watch the replay the next day. In the middle of the 2nd round, I started receiving text messages asking if this was "for real?" After a bit of questioning, I asked the party host (luckily her husband is also a fight fan) if he had HBO and he graciously turned on the fight. What ensued was 10 more rounds of intense drama, which nobody expected, and Timothy Bradley earned a newfound respect from fight fans all over the world. While he fought a very dumb fight, Bradley set out to prove that he was a fan-friendly fighter. On this night in March, he did that and more, courtesy of his war with Provodnikov. After this fight, Bradley went on to decision Juan Manuel Marquez, and Provodnikov went on to knock out Mike Alvarado in Alvarado's hometown. There were many candidates to win this award, but, in my mind, only one was truly worthy to receive this honor.

Runner-ups: Omar Figueroa UD 12 over Nihito Arakawa, Mike Alvarado UD 12 over Brandon Rios, Carl Froch UD 12 over Mikkel Kessler, Marcos Maidana TKO 6 over Josesito Lopez, Keith Thurman KO 10 over Diego Chaves, Giovani Segura KO 12 over Hernan Marquez, Ruslan Provodnikov RTD 10 over Mike Alvarado, Juan Francisco Estrada SD 12 over Brian Viloria, Erislandy Lara TKO 10 over Alfredo Angulo, James Kirkland TKO 6 over Glen Tapia, Evgeny Gradovich SD 12 over Billy Dib

"I Don't Believe What I Just Saw" Award (Upset of the Year): Jhonny Gonzalez KO (1) of Abner Mares

Mares was coming off of a TKO victory over Daniel Ponce De Leon as the co-feature to Mayweather vs. Robert Guerrero, and the well-traveled Jhonny Gonzalez, though a knockout artist, was supposed to be well past his prime. As they say though, the last thing to leave a fighter is his/her power. This proved to be true from the outset as Gonzalez dropped Mares in the opening round and then finished him off to shock the boxing world. The two are set to meet in a rematch in February in a fight most are already giving early Fight of the Year recommendations for 2014.

Runner-ups: Marcos Maidana UD (12) over Adrien Broner, Simpiwe Vetyeka TKO (6) over Chris John, Tony Thompson TKO (2) over David Price, Kiko Martinez TKO (6) over Jhonatan Romero, Adonis Stevenson KO (1) over Chad Dawson, Shawn Porter UD (12) over Devon Alexander

Ocean's Eleven Award (Robbery of the Year): Ricky Burns SD (12) vs. Ray Beltran

The fact that Burns will be defending his lightweight title in early 2014 against highly regarded contender Terence Crawford is a major miracle in itself considering Burns was completely outclassed against Beltran. A split draw was also amazing considering Burns fought with a broken jaw from the 2nd round on. While Burns showed unbelievable toughness, he did not deserve to hold on to his title on this night in September.

Runner-ups: Carl Froch TKO (9) over George Groves, Rances Barthelemy MD (12) over Arash Usmanee, Ricardo Alvarez Majority Decision win over Rod Salka

Angelo Dundee Award (Trainer of the Year): Angel Garcia

He may only train one fighter, but Angel Garcia did an A+ job with his fighter this year. Danny Garcia (our Fighter of the Year) put together a masterful performance against Lucas Matthysse on the biggest stage of his young career. Garcia not only engaged with the hard-hitting Argentine, but he consistently beat him to the punch and seemed more powerful in the fight than Matthysse. For this, Angel Garcia is our Trainer of the Year.

Runner-ups: Robert Garcia, Freddie Roach, Abel Sanchez, Floyd Mayweather Sr., Pedro Diaz, Joel Diaz Jr.

Corrales vs. Castillo Round 10 Award (Round of the Year): John Molina vs. Mickey Bey - Round 10

If there was ever a round of boxing in 2013 that symbolized what Corrales vs. Castillo, Round 10, symbolized, it was this one. Even though Molina never went down in the round, he was seriously hurt by several vicious Bey body shots. Molina was way down on all scorecards until mid-way through the round when he landed a picture perfect left hook to Bey's chin. What ensued next was 25 seconds of sheer firepower which led the referee to step in and stop the fight.

Runner-ups: Omar Figueroa vs. Nihito Arakawa Round 3, Ricky Burns vs. Jose Gonzalez Round 7, James Kirkland vs. Glem Tapia Round 2, Timothy Bradley vs. Ruslan Provodnikov Round 6, Nick Brinson vs. Jorge Melendez Round 4

The New Years Eve, Times Square Award (Event of the Year): The One: Mayweather vs. Canelo

It was the fight fans wanted. Canelo Alvarez was supposed to be too big and strong for the mighty Floyd Mayweather. Mayweather had never faced a test like this. Fans ascended upon Las Vegas in droves and sold out the MGM Grand in less than 24 hours. It was the largest ticket gate ever amassed (over $20 million), and it was the 2nd-largest pay-per-view event of all-time (2.2 million buys). The weigh-in even had over 12,000 people in attendance. The entire world was watching as Mayweather proved to the world that he truly is "The One."

Runner-ups: Wladimir Klitschko vs. Alexander Povetkin, in Moscow for the unified world heavyweight championship; Carl Froch vs. Mikkel Kessler II in London; Sergio Martinez vs. Martin Murray in front of 50,000 fans in Buenos Aires, Argentina; ESPN Friday Night Fights at U.S. Cellular Field in Chicago to watch Andrzej Fonfara knock out Gabriel Campillo; 200,000 fans showing up in Volgograd, Russia in August to watch Dmitry Chudinov defeat Jorge Navarro; Manny Pacquiao vs. Brandon Rios in Macau, China; Canelo Alvarez vs. Austin Trout in front of 40,000 fans at the AlamoDome in San Antonio, Texas

The Jennifer Lawrence Award (Breakout Star of the Year): Adonis Stevenson

Stevenson could very easily have won the Fighter of the Year, and in most fans eyes, he did. 4 successful knockout victories in 2013, amassing a total of 20 rounds, Stevenson began the year by avenging his only loss, stopping Darnell Boone (the only man to knock down Andre Ward) in the 6th round. Stevenson then burst onto the scene when he knocked out light heavyweight kingpin Chad Dawson in the 1st round. Stevenson went on to stop former light heavyweight champion Tavoris Cloud before finishing the year off with a 6th round TKO victory over Tony Bellew. Stevenson is now regarded by many as the #1 light heavyweight in the world, ahead of Bernard Hopkins.

Runner-ups: Sergey Kovalev, Kubrat Pulev, Deontay Wilder, Yoan Pablo Hernandez, George Groves, Shawn Porter, Demetrius Andrade, Keith Thurman, Ruslan Provodnikov, Omar Figueroa, Evgeny Gradovich

Tommy John Award (Comeback Fighter of the Year): Tony Thompson

After suffering his 2nd knockout loss to Wladimir Klitschko in 2012, most thought Thompson to be nothing more than a stepping stone for young fighters. Enter rising heavyweight star David Price, who was supposed to steamroll Thompson en route to an eventual showdown with Wladimir Klistchko. Thompson had other plans and stunned the crowd in Liverpool knocking out Price in the 2nd round. This led to a rematch in July, which ended via 5th round knockout in favor of Thompson once again. Even though Thompson dropped a unanimous decision to Kubrat Pulev in August, Thompson proved he still has plenty left in the tank.

Runner-ups: Jhonny Gonzalez, Bernard Hopkins, Kiko Martinez

Lebron James I Got Next Award (Star in the Making): Terence Crawford

Crawford fought 3 times in 2013 and was dominant on all 3 occasions. He is slated to get his first world title shot against lightweight champion Ricky Burns in the first quarter of 2013. Most believe Crawford will win his first of many world titles.

Runner-ups: Vasyl Lomachenko, Kubrat Pulev, Deontay Wilder, Bryant Jennings, Tyson Fury, Sergey Kovalev, George Groves, Frankie Gavin, Jermall Charlo, Jermell Charlo, Frankie Gomez, Jesse Magdaleno (2nd year in a row)

Mario Lemieux Award (Inspirational Story of the Year): Anthony Dirrell

For those who don't remember, cancer survivor Daniel Jacobs was the 2012 Comeback Fighter of the Year. Not many people know the story, but Dirrell is also a cancer survivor, having beaten Lymphoma in 2007. After beating the cancer, Dirrell was back on his way to the top before a motorcycle accident devestated his right leg, requiring surgery in 2012. Not to be denied, Dirrell fought his way back and eventually earned himself the top spot as the WBC #1 contender for the super middleweight title. In early December, he fought to a draw against champion Sakio Bika in a very competitive fight which has fans itching for a rematch.

Runner-ups: Leo Santa Cruz, Timothy Bradley

Leon Lett Boner Award (Dumbest Move of the Year): C.J. Ross scoring Mayweather vs. Canelo a draw

Even Canelo said after the fight it wasn't a draw. I'm glad Ross took a leave of absence because a lot of people lost a lot of money that night thanks to poor scoring. While other fighters may have failed drug tests or committed crimes, Ross' blunder was nothing short of unacceptable and received more notoriety because it occurred during the biggest boxing event of 2013.

Runner-ups: every fighter who tested positive for a banned substance, Yuriorkis Gamboa arrested on domestic violence charge, referee Howard Foster stopping the Carl Froch vs. George Groves bout prematurely, Tor Hamer retiring on his stool for the 2nd time in 12 months, the New York State Athletic Commission for not immediately sending Magomed Abdusalamov to the hospital after his fight with Mike Perez, Manny Pacquiao's tax problems, Adrien Broner pretty much doing anything outside the ring

Hope you enjoyed the year-end awards ceremony. Did you agree or disagree? Send your thoughts to dkassel@fighthype.com, follow me on Twitter @BoxingObserver, and be sure to "Like" The Boxing Observer on Facebook.
[ Follow David Kassel on Twitter @BoxingObserver ]