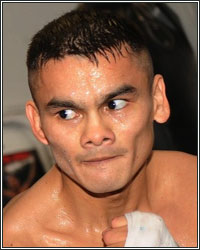 Not longer after former jr. welterweight champion Amir Khan revealed that he has signed a contract to face undefeated pound-for-pound king Floyd "Money" Mayweather on May 3, newly-crowned WBA welterweight champion Marcos Maidana released the following statement on his social network pages to clarify that his team has not been contacted about the possibility of fighting Mayweather.

OFFICIAL STATEMENT FROM TEAM MAIDANA:

As some rumours have arised in the last few hours about a potential unification fight between WBC Welterweight champion Floyd Mayweather Jr. and WBA Welterweight champion Marcos Maidana next May 3rd, Team Maidana wants to clarify that we have not been contacted about it as of yet, except for that creative art piece posted by Mayweather Jr. himself around the web which Chino Maidana (a.k.a. "the biscuit" in this case) already answered.

Chino Maidana is on a well deserved vacation on his native town of Margarita and will not be begging around for that fight. And unlike others Chino will not put down other fellow boxers who apparently are in the race to face the best of the world. We think the boxing people already made clear what kind of fight they want to watch May 3rd, 2014: a fight between two champions.



[ Follow Ben Thompson on Twitter @fighthype ]