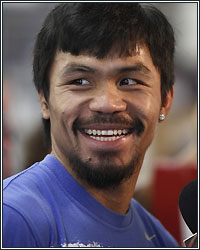 Over the weekend, Manny Pacquiao's adviser, Michael Koncz, met with his promoter, Bob Arum, to decide the next opponent for his anticipated return to the ring on April 12 at the MGM Grand Garden Arena in Las Vegas, Nevada. "I met at Arum's house this afternoon, but nothing is final as Manny and I are looking at all our options," Koncz informed Ronnie Nathanielsz of Philboxing.com not long after that meeting took place. Arum echoed those sentiments, insisting that the final decision is still up to Pacquiao.

"It'll either be [Ruslan] Provodnikov or [Timothy] Bradley. We'll let Manny decide; we'll get a deal made with whoever he chooses and hopefully make the announcement in a week," the Hall of Fame promoter explained in a separate interview with Steve Carp of the Las Vegas Review-Journal. Though both men are staying tight-lipped regarding details of their discussion, sources tell us that a decision has indeed already been made, and it looks like all parties involved prefer to avenge at least one of Pacquiao's most recent losses.

"They're going with Tim," stated a source with knowledge of Pacquiao's preference. Evidently, the multi-division world champion was told that a rematch with Bradley would be the better option financially, making his decision a no-brainer given the tax issues he's been facing in both the United States and the Philippines. "Neither guy [Bradley or Provdnikov] are a big draw, but with Bradley, they can at least hang their hat on the fact that there's history between the two fighters. The controversy of their first fight makes it a lot easier to sell than a fight with the Russian kid," our source explained, referring to the fact that Bradley was awarded a split decision victory over Pacquiao despite the fact that many believe that it was Pacquiao who easily dominated that first encounter and deserved the victory.

According to our source, there's also other reasons why Pacquiao will want to fight Bradley in April. "Don't forget that the [Juan Manuel] Marquez is being a thorn in the side of everyone. He doesn't want to give Pacquiao a chance to avenge the KO and he's demanding that he be given the rematch with Tim, even though he acted like a sore loser after their fight. He's acting like a diva, and nobody wants to deal with that. Just about everyone - Manny, Tim, and even Bob - would love to stick it to him and leave him with no other option than the Russian. Plus, in some ways, Manny can make people forget about the KO to Marquez if he himself can KO Bradley, who just beat Marquez. And don't forget the Mayweather factor. With Tim still being undefeated, an impressive win over him will go a long away in restoring Manny's claim to Mayweather's pound-for-pound throne," our source added.
[ Follow Ben Thompson on Twitter @fighthype ]