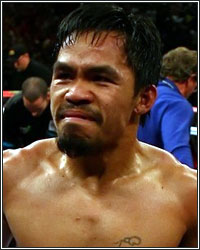 In a recent interview, Manny Pacquiao's long-time Filipino lawyer, Franklin Gacal, raised a number of eyebrows after urging promoter Bob Arum to release the multi-division world champion from his contractual obligations. Responsible for reviewing all of Pacquiao's contracts, both in and out of the ring, Gacal has long-been considered one of the closest confidants of the fighting congressman from Sarangani, who named him his Chief of Staff after his election. To the surprise of many, Gacal revealed that he has never seen Pacquiao's current contract with Top Rank thanks to adviser Michael Koncz, who apparently kept it hidden from him.

"The current contract [between Top Rank and Pacquiao] was never shown to me. Mike hid it from me. He did not show the contract to me. He did not inform me. I told Mike, 'You know that it is for the best interest of Manny that no contract should be signed for the moment because apparently that is what Floyd [Mayweather] wants or his condition," explained Gacal, who is currently recovering from a stroke that left him paralyzed on the right side of his body. He also pointed the finger at Koncz for the current tax issues that Pacquiao is going through. "Well, it appears there is really a problem. The IRS is claiming there is a tax deficiency. If there were some mistakes, it was Mike's fault. Why did it happen? They were supposed to have hired accountants. At the end of the year, after the filing of the tax returns, all problems should have been solved. If the US still has claims, there should be problems with recording and everything. So this is the point man's fault and that is Mike"

Gacal also suggested that Koncz may not have Pacquiao's best interest at heart and is more concerned about maintaining good relations with Arum. "Mike looks up to Bob Arum when Pacquiao is done with boxing. When Pacquiao is done, who is he? So he has to maintain his good relations with Bob Arum," Gacal continued in an interview with Edwin Espejo of Rappler.com. He went on to explain why Pacquiao has kept Koncz around for so long. "Manny is a good man. If you show him loyalty and you really work for him, you will be rewarded. Steal from him 10 times and asked for forgiveness once, he will forgive you 11 times."

It seems now, even members of Pacquiao's inner circle agree with what Alex Ariza first told FightHype readers over two years ago; that Bob Arum and Michael Koncz are preventing a mega-fight between Floyd Mayweather and Manny Pacquiao from taking place. "For this fight, Arum should not be involved. That is the only way for the fight to happen. Everybody wants the fight. Bob should give way if that is the only way. That is the advice I can give to Manny for now," Gacal added.
[ Follow Ben Thompson on Twitter @fighthype ]