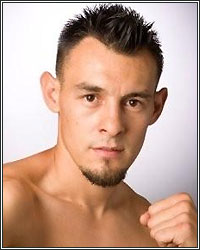 A source close to the information has informed us that multi-division world champion Robert Guerrero is a wildcard in the mix to land a fight with 8-division world champion Manny Pacquiao. "There's another name. Robert Guerrero," our source informed us as we discussed Pacquiao's potential opponents when he makes anticipated April 12 return to the ring. We're told that although Pacquiao's preference is undefeated WBO welterweight champion Timothy Bradley, he's being advised that a bout with Guerrero may be more beneficial to him financially.

The problem with Guerrero, however, is that he's currently under contract with Golden Boy Promotions. Of course, that might be the reason why he's trying to get out of his contract through arbitration with the California State Athletic Commission. "What his issues are, I can't tell you. You'd have to ask him," Golden Boy Promotions CEO Richard Schaefer recently told ESPN.com. "We have totally complied with our contract with regard to the minimum purses and the number of fights, so I don't know what they are basing this on."

According to Schaefer, Guerrero might have a difficult time getting out of that contract. "The contract was not signed under California law, it was done under New York law, so you can't have the California commission rule on a New York promotional contract," he explained. "Most of our promotional agreements are governed by New York law because that is where most of our sponsor deals and television deals are also governed, and we want to have consistency. Guerrero agreed to have his contract under New York law, and he was legally represented when he signed it."

Schaefer added, "He made a career-high payday last year and we put him in with Andre Berto in a big fight before that. We gave him the exposure he wanted and he made a lot of money. I'm proud of how we have promoted Robert Guerrero and of the money we have made for him...The guy was on my ass to get him the Mayweather fight for a long time. Finally, I get him the deal and now he is unhappy. I don't understand." Nevertheless, our source confirmed that Guerrero was indeed an option that was presented to Pacquiao. Whether or not that option is a viable one remains to be seen, but if it is, I would not be surprised to see Pacquiao opt to face Guerrero, who hasn't fought since his lopsided loss to Floyd Mayweather and who will no doubt come cheaper than both Bradley and Provodnikov.
[ Follow Ben Thompson on Twitter @fighthype ]