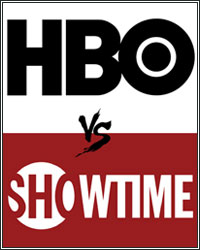 It's Monday. Welcome back for another edition of Observe and Fight, The Boxing Observer's compilation of observations and random thoughts from the week that was in boxing. Get caught up on some of the most recent events you may have missed out on, including the initial installment of HBO vs. Showtime 2014, the winners and losers of Pascal vs. Bute, the passing of WBC President Jose Sulaiman, and much more. Without further ado, check out the latest observations from the Boxing Observer, David Kassel.

It's a new year in boxing and the HBO vs. Showtime war rages on, this weekend, with no end in sight. This Saturday night marks the first time in 2014 that boxing fans will get what they routinely saw in 2012 and 2013. I'm writing about conflicting fight cards on the two biggest boxing networks in the world, HBO and Showtime. Too many times in 2012 and 2013, boxing fans were forced to pick which fight card they would rather have watched on a Saturday night because both networks tried to outdo the other with in-ring action on the same night. Hell, on one night in September of 2012, HBO staged a pay-per-view event, in Las Vegas, at the Thomas and Mack Center, between Sergio Martinez and Julio Cesar Chavez Jr., while Showtime had Canelo Alvarez headline a Showtime Championship Boxing card two miles up the road at the MGM Grand against Josesito Lopez. While this weekend's fight cards aren't exactly going to blow the ratings through the roof, it doesn't allow the networks to truly see how great it would be to split fight dates so fans wouldn't have to choose which fights to watch. Can you imagine what life would be like if we didn't have DVR? Fans would miss half the fight action they want to see. As of this moment, this Saturday night marks the only scheduled time in 2014 when fans will have to pick which network to get their boxing fix. While this likely won't be the last time they will have to choose, let's hope this is the start of the networks finally using some sense and realizing that the ratings will be much higher if fans didn't have to split their time.

As far as this weekend's fight action, in my opinion, HBO has the much more appealing fight card. Anytime a Top 10 pound-for-pound fighter is in action, that fight should take priority. Some may not agree with me, but WBO junior lightweight champion Mikey Garcia is in my Top 10 and is the 2nd best fighter in any division south of 140-lbs (only Guillermo Rigondeaux is higher on my list). Garcia is the perfect combination of size, strength, speed, and ring technician. One second, he looks like he is planning his next 10 moves, and the next second, the opponent is face down on his back. I'm looking forward to seeing what, if anything, Juan Carlos Burgos can do against Garcia. Burgos was robbed last January against Rocky Martinez in his first attempt to win the WBO 130-lb. title, so maybe this will be a redemption fight. I just don't see any way Burgos can last 12 rounds against a fighter as skilled as Garcia.

Showtime's main event, Lamont Peterson vs. Dierry Jean, does not seem like a world title fight. The last time we saw Lamont Peterson in the ring, he was destroyed by Lucas Matthysse. For political reasons, the fight was fought at 141-lbs., just one pound over the 140-lb. junior welterweight limit. Because of this technicality, Peterson still holds the IBF junior welterweight championship, meaning his fight with the undefeated Jean will be for the title. I know he holds the belt, but, in my mind, Lamont Peterson is not a world champion. Peterson should win this fight. The Canadian, Jean, has fought nobody of consequence, and Peterson has faced the best of the best. From a skill and experience perspective, Peterson has everything going for him. Also, this fight is taking place in Peterson's hometown of Washington D.C., but after everything that has happened throughout Lamont Peterson's career, especially lately, he should not be a world champion. He is still a world-class fighter, and one of the best 140-lb. fighters in the world, but he needs to build himself, and his image, back up in order to be considered a champion.

The undercard fights might steal the show for both networks. HBO's co-feature has rising, undefeated, heavyweight contender Bryant Jennings facing another rising, undefeated contender, Artur Szpilka. This fight will be dictated by Jennings. If Jennings forces Szpilka to box, he will cruise to victory; however, if Jennings tries to brawl and put on a show in his first fight on HBO, he may end up getting himself knocked out. Both fighters have the capability to finish the other before the final bell, but the more boring the fight, the better it will work out for Jennings. Something tells me this will be a war though. Showtime's co-feature will also be a can't miss fight. Undefeated junior middleweight Jermell Charlo takes his biggest step up against the always game Gabriel Rosado. Charlo seems to have all the skills necessary to become a world champion, but Rosado, who will likely be the bigger, more powerful man in the ring, will test Charlo's will like no one has before. If Charlo can pass the test of Rosado, he may line himself up for a world title fight in his next bout.

Boxing fans were finally treated to Jean Pascal vs. Lucian Bute, but the only winner seemed to be none other than Adonis Stevenson. Jean Pascal may have won the fight, but did he do anything to make boxing fans believe he can beat Stevenson? Yes, Canadian fans will pay top dollar to see this fight, and it will interest non-Canadian fans as well, but at this point, I have a tough time believing Pascal can beat Stevenson in a 12-round affair. Stevenson, though 5 years older, is the much fresher of the two fighters and is getting better and better every time out. Pascal was unable to finish Bute, even though Bute was fighting at light heavyweight for the first time since 2005. Stevenson would have finished the job in spectacular fashion, much like Carl Froch did to Bute. Pascal did not seem to be in a rush to get in the ring with Stevenson according to his post-fight comments. Maybe Pascal might be better off going after a fighter like Mikkel Kessler or Tavoris Cloud in his next fight, rather than trying to get in the ring with Stevenson. Adonis Stevenson, though he burst onto the scene in 2013, was just proven to be the best fighter in Canada. He's got the skills, charisma, and appeal to jump up to #1 in Canadian boxing fans' hearts.

If the rumors are true, Adonis Stevenson will have a showcase fight, in April, against Andrzej Fonfara. Fonfara has been featured on ESPN Friday Night Fights as of late, but, according to Fonfara, the #1 contender, a deal has been reached for the fighters to face one another. Stevenson would be the heavy favorite in this fight, and it's possible Sergey Kovalev could be the co-feature fight once again. Hey, maybe Kovalev could face Bute in what would be perceived as showcase fights, once again, for both Stevenson and Kovalev.

Where does Lucian Bute go from here? Even after the injuries and the long, successful career, Bute does not seem to be on the verge of retirement. If Bute does continue fighting, he will be best served dropping back down to super middleweight and taking on a top fighter. Even though he got blasted by Carl Froch, Bute may still have what it takes to be a top 168-lb. fighter. There are still plenty of names out there at 168-lbs., and if Bute can beat one of them, he might shoot right back up into the world title picture. However, another Bute loss will signify the end of his career.

Did everyone see Frank Galarza's knockout of John Thompson on ShoBox? It's the early leader for Knockout of the Year!

There is an interesting fight card in Germany on Saturday. WBO cruiserweight champion Marco Huck will give Firat Arslan a rematch after their debated first fight in November 2012. The co-feature will bring about the return of David Price, who begins his comeback trail after consecutive knockout losses to Tony Thompson.

Don't forget about the great boxing action on Friday night as well. ESPN Friday Night Fights has a tremendous main event between Thomas Williams and Cornelius White, NBC Sports Network Fight Night brings us the return of Curtis Stevens, and Fox Sports 1 has an excellent card featuring Antonio Orozco taking on Miguel Angel Huerta, with an IBF eliminator also on the card featuring former champion Cornelius Bundrage taking on Joey Hernandez. Not a bad Friday night of action if you ask me.

The new boxing reality show "Knockout" is shaping up to be more "The Ultimate Fighter" than a boxing show. For the 3rd time in a week, a confrontation took place on the set. Rival trainers Floyd Mayweather Sr. and Ruben Guerrero had to be separated on two different occasions in what will most likely be a common trend on the show considering the fact that both men are camera-hungry personalities. However, the most recent altercation was completely shocking and unprovoked as former top contender Tim Coleman attacked the show's Executive Director of Competition and longtime boxing businessman, Rick Glaser. According to media reports, and Glaser's Facebook page, Coleman bum-rushed Glaser, who is in his 50's, because of a Facebook conversation between Coleman's wife and Glaser in which Coleman's wife advised Glaser that Coleman was having legal issues with the police. That's probably not the smartest thing to do considering Glaser was one of the direct reasons for Coleman's involvement in the show.

The boxing world lost one of its most iconic figures this week, WBC President Jose Sulaiman. The 82-year-old appointed "President for Life" was both loved and hated by people in the boxing world. Sulaiman was instrumental in changing championship bouts from 15 rounds to 12 rounds, changing weigh-ins from the day of the fight to the day before the fight, making sure all fighters wore attached thumb gloves, implementing instant replay, and helping to install intermediate weight divisions, which led to more world champions. However, Sulaiman was also perceived as a corrupt leader because of his rather obvious favoritism toward Mexican fighters, his complete lack of regulations on his world rankings by giving undeserving fighters world title shots, and helping to develop the interim title. The WBC is the most famous of the 4 recognized world championship sanctioning bodies, mostly because of the uniqueness of its green and gold belts. Sulaiman is survived by his wife, six children, and 14 grandchildren.

Each week, I feature an email from a fan on Observe and Fight. This week's email comes to us from Nate W. regarding the future of Gary Russell Jr...

"Yo David How Are You Sir? I Would Like To Ask You About A Boxer Who A Lot Of People Aren't Quite Talking About At The Moment. And That's Mr. Gary Russell. How Long Will It Take For Him To Finally Step Up And Face A Real Contender? And If So, Who Can He Fight In His Weight Class?"

What's going on, Nate! Russell Jr. is a bit of an enigma but he has had some trouble staying healthy. All indications are that Richard Schaefer and company are trying to get him a title shot this year. He is the mandatory to Orlando Salido for the WBO belt, but that can't happen right now because of the GB vs. TR feud and Salido is facing Lomachenko on Saturday. Russell is very gifted and, if he can stay healthy, should get his world title shot this year. Don't be surprised to see him take on the winner of the rematch between Jhonny Gonzalez and Abner Mares. Gonzalez already dismissed the idea of fighting Russell instead of facing Mares. Gonzalez wants a voluntary defense in Mexico if he doesn't face Mares next, and Russell is too big a risk. Don't worry though, as long as Russell Jr. is healthy, and with Al Haymon in his corner, he will get a world title shot this year.

That's all I've got for this week. Email any questions or comments to dkassel@fighthype.com and I will answer them throughout the week. Your email may be featured in the next "Observe and Fight." Follow me on Twitter @BoxingObserver, and be sure to "Like" The Boxing Observer on Facebook.
[ Follow David Kassel on Twitter @BoxingObserver ]