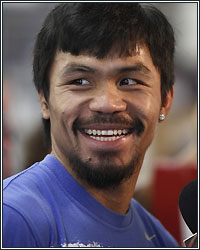 According to reports out of the Philippines, multi-division world champion Manny Pacquiao has agreed to terms for a rematch with undefeated WBO welterweight champion Timothy Bradley. Nick Giongco of the Manila Bulletin reports that an anonymous source has confirmed that the bout is a go for April 12 at the MGM Grand Garden Arena in Las Vegas, Nevada. FightHype.com readers will remember that two weeks ago, our own source informed us that Timothy Bradley was Pacquiao's personal preference among the possible choices [Timothy Bradley or Ruslan Provodnikov] because he was advised that a fight with Bradley would be his best financial option.

"Neither guy [Bradley or Provdnikov] are a big draw, but with Bradley, they can at least hang their hat on the fact that there's history between the two fighters. The controversy of their first fight makes it a lot easier to sell than a fight with the Russian kid," our source explained, referring to the fact that Bradley was awarded a split decision victory over Pacquiao despite the fact that many believe that it was Pacquiao who easily dominated that first encounter and deserved the victory. While the choice seemed like a no-brainer given the tax issues that Pacquiao is currently dealing with in both the United States and the Philippines, the fight was far from being finalized at the time because, evidently, Bradley was standing firm on his demands for a larger piece of the pie.

Having previously turned down a $6 million offer for the rematch last year, we're told that Bradley was holding out for upwards of $10 million, which was allegedly guaranteed to him as part of a rematch clause that was written into the contract of their first bout. It's unclear at this point if Bradley has indeed been offered the guarantee that he was hoping for, or if he's even agreed to terms on his end. That being said, Pacquiao's advisor, Michael Koncz, is reportedly on his way to the Philippines with the paperwork to finalize the fight. A formal announcement is expected to be made next week and plans are already being made for the press tour, which will kick-off on February 4 in Los Angeles before making it's way to New York on February 5.
[ Follow Ben Thompson on Twitter @fighthype ]