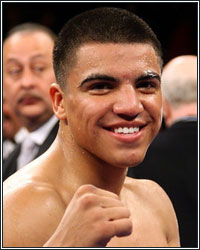 Fighters for the Victor Ortiz vs. Luis Collazo card gathered at Gleason's Gym in Brooklyn, N.Y. to workout for the media and hold a press conference before their respective Thursday, Jan. 30 fights at Barclays Center airing live on FOX Sports 1 and FOX Deportes. Check out what Victor Ortiz, Eddie Gomez, Gary Russell Jr., and Zachary Ochoa had to say!

VICTOR ORTIZ, Former WBC Welterweight World Champion

"We're so ready, we've had the best sparring partners and we're ready to get in the ring. Training camp was really good.

[On experiencing "ring rust"] "Absolutely not, I'm completely 100 percent confident. I have no ring rust whatsoever.

"I'm not at all concerned about my jaw, I feel great and I can't wait to get in the ring.

"This is my first time fighting in Brooklyn and I'm excited. I don't have any words to say, nothing bad, nothing good. I'm here for the victory."

EDDIE GOMEZ, Undefeated Super Welterweight Prospect

"We've had six or seven hard weeks of training camp, doing everything we have to do to prepare for the fight.

"We [Gomez and Arnett] fought in the amateurs. I beat him and knocked him down three times. So now we're going back at it again. He's improved a lot but somebody's '0' has to go.

"We've grown and developed a lot both power-wise and ability-wise.

[On fighting at Barclays Center] "It's a short drive from my house. I love fighting there. I have a lot of people coming to see me.

[On what to expect Thursday] "You can expect fireworks. I have everything, speed, power and whatever it takes to get the 'W,' I'll be doing it."

GARY RUSSELL JR., Undefeated Super Featherweight Prospect

"I had a fun training camp. A lot of people approach this as a job, I understand that but for me, training camp was fun because I'm fighting a southpaw and I'm a southpaw.

"Anyone who knows me knows that I'm the oldest of six boys and all of us our southpaws.

"We're animals, soldiers and warriors and I'm looking forward to bouncing around six, seven, eight rounds."

ZACHARY OCHOA, Undefeated Super Lightweight Rising Star & Newly Signed GBP Fighter

"Fighting at Barclays Center is a good experience for me because it's the best arena in the world. It's a great thing that's convenient for people and people from Brooklyn love to fight.

"Signing with Golden Boy was a beautiful thing for me. I couldn't really get fights. For someone with my work ethic who trains all year it was disappointing not to get fights. But Golden Boy saw something in me and I'm excited they decided to sign me.

"Teachers in school used to say I wasn't going to graduate, but I graduated high school, got accepted to college and I chose a different path.

"I am blessed with talent and I am so hungry to be the best, that's why I call myself Zungry."

PAULIE MALIGNAGGI, Former Two-Division World Champion & FOX Sports 1 Color Commentator

"This is such a stacked card for it being in the middle of Super Bowl week here in New York. The whole city is buzzing.

"I am excited looking at this whole line up, it's really a great card we have here.

"Everything in New York City is electric. It is a perfect time for a card like this. Tickets start at 25 dollars, which you just can't beat.

# # #

Ortiz vs. Collazo is a 12-round fight for the WBA International Welterweight title on Thursday, Jan. 30 presented by Golden Boy Promotions and sponsored by Corona and Casamigos Tequila. Barclays Center doors open at 6:00 p.m. ET with the first bell sounding at 6:30 p.m. ET. The FOX Sports 1 and FOX Deportes broadcast airs live at 9:00 p.m. ET/6:00 p.m. PT.

Tickets priced at $25, $43, $80 and $160 plus applicable taxes and service charges are on sale now available for purchase at www.barclayscenter.com, www.ticketmaster.com, all Ticketmaster locations, by calling 800-745-3000 and at the American Express Box Office at Barclays Center. For group tickets, please call 800-GROUP-BK. A limited number of suites are available for the event. For more information on how to reserve one, please call 718-BK-SUITE (718-257-8483).