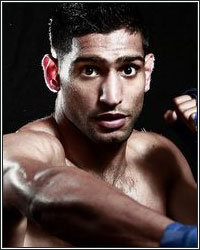 "Mayweather says he needs a easy fight and fans want to see a knock out so maybe thats the reason he doesn't want fight me n wants Maidana," stated former jr. welterweight champion Amir Khan, who took to Twitter to voice his frustration about the fact that undefeated pound-for-pound king Floyd "Money" Mayweather has yet to choose him as his next opponent for his highly-anticipated return to the ring. Earlier this week, Mayweather announced that he would let fans decide who his next opponent would be, unveiling a poll listing Khan and newly-crowned WBA welterweight champion Marcos Maidana as the options.

It didn't take long for fans to begin voicing their opinion, and it was Maidana who took the early lead with a whopping 75% of the votes. Since Mayweather first made the announcement on Sunday, Maidana held on to that wide margin for nearly 3 days, thanks largely in part to the fact that he promoted it on his own Twitter and Facebook accounts. That was until recently when Khan joined in on the promotion, stating his case and letting his own fans know about the poll. "For those that hate me & think FM can KO me, then let's see him try. Fight me! #SkillvSkill SpeedvSpeed," Khan recently posted.

As it stands right now, both fighters are neck and neck in the voting. You still have time to voice your opinion before the polls close, so visiti MayweatherPromotions.com to let Mayweather know who you want to see him fight next.


Mayweather says he needs a easy fight and fans want to see a knock out so maybe thats the reason he doesn't want fight me n wants Maidana ??

— Amir Khan (@AmirKingKhan) February 5, 2014
for those that hate me & think FM can KO me, then let's see him try. Fight me! #SkillvSkill SpeedvSpeed.

— Amir Khan (@AmirKingKhan) February 5, 2014
[ Follow Ben Thompson on Twitter @fighthype ]