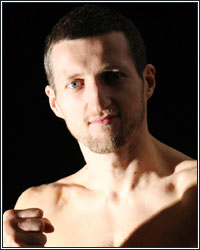 "There was a couple of options out there, but this seems to be the option that the British public wants and the fight that everybody is talking about, you know, so I'm excited to finally now get it on. And to be honest, I'm going to be excited and motivated, looking forward to finally shutting George Groves up and putting him behind me," stated WBA & IBF super middleweight champion Carl Froch, who talked about his highly-anticipated rematch with super middleweight contender George Groves. Froch made the bout official when both he and Groves put pen to paper and signed the contract during a live broadcast on Sky Sports News. Though a venue in the UK has yet to be determined, the bout will take place on May 31.

"I know that George Groves was gone, even the people that thought the referee stopped the fight too early, still agree that the fight was only going one way which was George Groves being flat on his face," Froch explained to Sky Sports. "He knows he was badly hurt and the referee did him a massive favour. But there's still the question mark hanging over us and now I finally have the chance to put that to bed and that is what I am going to do."

Froch added, "The British public are behind this and this was almost the only fight out there for me to reasonably take. I've given the British public what they wanted for years and years and I won't stop doing it now."
[ Follow Ben Thompson on Twitter @fighthype ]