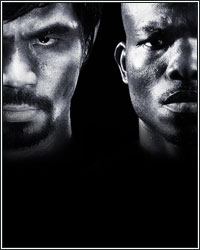 It's Monday. Welcome back for another edition of Observe and Fight, The Boxing Observer's compilation of observations and random thoughts from the week that was in boxing. Get caught up on some of the most recent events you may have missed out on, including the drug testing issue finally being solved for Bradley vs. Pacquiao 2, the announcement of Froch vs. Groves 2, a preview of this weekend's fight card in China, and much more. Without further ado, check out the latest observations from the Boxing Observer, David Kassel.

The Bradley vs. Pacquiao 2 drug testing issue has finally been resolved. A certified World Anti-Doping Agency (WADA) collection agency will handle unannounced drug testing for both fighters in what Nevada State Athletic Commission Chairman Francisco Aguilar called "stepped up drug and hormone testing". Testing samples will undergo isotope-ratio mass spectrometry to detect exogenous testosterone from outside the body (and like most of you out there, I'm not even going to begin to pretend like I know what that means). One of the biggest issues was finding a testing organization that could adequately test because part of Pacquiao's training takes place in the Philippines (which allegedly rules out the United States Anti-Doping Agency [USADA]). I'm glad this issue got resolved because the fight is less than 2 months away and it's no secret that athletes everywhere are always looking for an edge (both legal and illegal). I doubt there will be any funny business going on between these two fighters, but I would like to see the issue of drug testing resolved BEFORE the contracts are signed from now on.

Thoughts go out to the family of featherweight titlist Jhonny Gonzalez. On Friday, Gonzalez's older brother, Miguel Angel, went missing without a trace. Gonzalez has asked for help from anyone with any information. One can only hope that Miguel is found safe.

I would be shocked if George Groves doesn't beat Carl Froch in the rematch. It was announced last week that the rematch is set after their first match-up ended as one of the most controversial fights in 2013. Groves was completely dominating Froch in every aspect of the fight until Froch briefly stunned Groves in the 9th round, prompting referee Howard John Foster to stop the fight VERY prematurely. I don't see how the rematch between the two will be any different from the first fight because Groves has the skill, speed, and stamina to beat Froch. It didn't seem like Froch was very willing to take the rematch, so I'm guessing he is being rewarded handsomely for his efforts. If Froch loses, I expect him to call it quits. He has had a wonderful career thus far, and if he loses to Groves, he will have absolutely nothing to hang his head about.

Tyson Fury looked like he had been out of boxing for 10 months. Even though Fury stopped Joey Abell on Saturday, he looked terribly out of shape for a man who still claims he will beat a Klitschko. Fury still has the power to knock most heavyweights out, but his chin is very suspect, and Fury cannot keep up with Klitschko. Fury is still very hittable and Klitschko will take full advantage of every mistake Fury makes en route to a knockout win.

I do agree with Fury that he shouldn't fight Dereck Chisora again. I know this is an entertaining fight that fans want to see, but Fury made a valid point when he said he already beat Chisora (who himself easily outpointed Kevin Johnson on Saturday) fairly easily. Fury may want to take a crack at the Chris Arreola vs. Bermane Stiverne winner for the vacant WBC heavyweight title, whenever that fight happens. How about Fury facing Kubrat Pulev in a very tough fight for Fury?

Why is Juan Manuel Marquez considering a fight with Mike Alvarado, but turned down a fight with Ruslan Provodnikov? Correct me if I'm wrong, but didn't Provodnikov just go into Alvarado's hometown and knock him out? I think a Marquez vs. Provodnikov fight, in Mexico, would make Juan Manuel more money than a fight against Alvarado. Alvarado is a safer fight for Marquez, but it is not more lucrative in my opinion.

I love the fact that Erislandy Lara is willing to step up to middleweight to face Gennady Golovkin. I think Golovkin would eventually knock Lara out, but it would sure be fun to watch GGG try to break down a slick moving southpaw who is much quicker than he is. Lara also has a fantastic amateur pedigree. I'd like to see this fight happen, even if boxing politics don't allow it to happen.

Can Chris Algieri become the next Sergio Martinez? Algieri, who already has a huge fan following in his hometown of Huntington, New York, which was evident by the support he received Friday night, headlined ESPN Friday Night Fights by winning a clear-cut unanimous decision over Emmanuel Taylor. He is now 19-0 (8 KO's) and is getting better each time out. The comparison to Martinez is not completely crazy because Algieri didn't start boxing until the age of 24, after an undefeated career as a professional kickboxing world champion (Martinez picked up boxing at age 20 after being a cyclist). Algieri still has a long way to go, but has the work ethic and natural footwork and stamina to succeed. One other thing to consider is Algieri will be going to medical school when his fighting career is over. In January of 2012, I conducted an interview with Algieri, who said he was only looking to do this boxing thing for about 3 or 4 more years. If he is serious about winning a world title, he won't rush himself to try and win a world title. Becoming a doctor is an ambitious goal, as is winning a world title, but rushing to set yourself up for a world title shot has not always worked out well in the past. Hopefully, Algieri continues to develop and get better because he could potentially be a world champion down the line. I'm just not sure he can get there in by the end of 2015. Only time will tell.

Does anyone else enjoy watching the Magdaleno brothers fight as much as I do? Both men were successful on Saturday, each winning by knockout. Diego has already had a title shot, falling to Roman Martinez, but he will get another one before all is said and done. I find it hard to believe that Jessie is a long way from his first world title shot.

Fidel Maldonado Jr. is one of the most exciting fighters in boxing, and I'm glad to see him getting back on track. "The Afrisco Kid" is a true knockout artist, and I know he was supposed to be fighting former world champion Steve Forbes last Monday, before Forbes pulled out of the fight, but Maldonado Jr. did what good fighters are supposed to do. He dispatched late replacement John Nater in 4 rounds. Expect Maldonado to step up in competition for his next fight.

It's not a huge week of fights, but there is boxing on, somewhere in the world, every night but Tuesday and Sunday this week. It all starts tonight on Fox Sports 1 with Monday Night Fights, featuring Manuel Avila taking on Enrique Quevedo. Wednesday, in Sydney, Australia, former world champion Daneil Geale takes on Garth Wood. A fight card in Panama takes place Thursday. ESPN Friday Night Fights features the first round of the Boxcino tournament, while Showtime has an intriguing main event between Hank Lundy and Angelo Santana. Also on Friday night, in a non-televised bout, Glen "Road Warrior" Johnson fights an 8-round cruiserweight bout against Jamie Velazquez. Saturday, HBO2 features the return of Zou Shiming, from China, as he goes 8 rounds for the first time in is career. However, the bout most American fans will be interested in is Miguel Vazquez defending his IBF lightweight title against Denis Shafikov.

Each week, I feature an email from a fan on Observe and Fight. This week's email comes to us from Louis T. regarding the delay for the announcement of Floyd Mayweather's opponent on May 3rd...

"Hello amigo! Do you know WTF Mayweather is waiting for to reveal the "worst secret ever of boxing" -to quote you- about his next opponent? It's getting a bit childish, isn't it? All this for so little...Why is that so laborious? Thanks."

Honestly, who really knows? We don't really know what types of conversations go on behind closed doors. I'm sure it's nothing more than something very minor that one side or the other is asking for. Also, it's usually customary for a promoter to gain "permission" so to speak from the Nevada State Athletic Commission. The bout must be approved, and with Keith Kizer having stepped down, the commission is still looking for a suitable replacement (the job is still posted on their website). The next commission meeting takes place on Thursday morning, February 27th, so I would expect an announcement pretty soon after that. Honestly, I expect the announcement (that Mayweather will be fighting Amir Khan) to come on Friday, February 28th, because Mayweather Promotions has put together a fight card for ShoBox that night, featuring its prospects (J'Leon Love, Mickey Bey, Badou Jack, and Chris Pearson). I would expect the announcement to come some time late Thursday night (February 27th) or early Friday (February 28th). That will draw more viewers to the ShoBox show because Mayweather will almost certainly be in attendance and will give live TV interviews.

That's all I've got for this week. Email any questions or comments to dkassel@fighthype.com and I will answer them throughout the week. Your email may be featured in the next "Observe and Fight." Follow me on Twitter @BoxingObserver, and be sure to "Like" The Boxing Observer on Facebook.
[ Follow David Kassel on Twitter @BoxingObserver ]