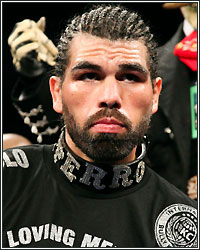 Former WBO Interim Junior Middleweight World Champion Alfredo "El Perro" Angulo held an international media conference call to discuss his upcoming SHOWTIME PPV mega-bout against Canelo Alvarez, taking place on Saturday, March 8 at the MGM Grand Garden Arena in Las Vegas, Nevada.

Richard Schaefer, CEO of Golden Boy Promotions, started off the call and ensured the media that, "This is an all-action card. Toe to toe. Even the non-televised fights are great matchups and exciting fights!" Schaefer expects a complete sell-out at the MGM Grand with already 12,000 tickets sold. He suggested arriving to the MGM Grand early as it "will be an unbelievable night of boxing."

Schaefer sounded very enthusiastic on the call and very confident that Alfredo Angulo can pull off the victory on March 8th. What happens if Angulo wins? "Alfredo has earned this opportunity, the doors would open to mega fights…If you beat someone like Canelo, there are many big names at 154...the biggest name, of course being Floyd Mayweather," Schaefer explained.

He was very adamant that Angulo has earned this shot and is not looking past Canelo. Although Angulo is coming off a loss to Erislandy Lara, Schaefer reminded the media that "Angulo is must-see tv" and "sometimes an exciting loss is more valuable these days than a boring win." He referred to Guillermo Rigondeaux as being an example of a great fighter who wins in boring fashion. Ouch!

Most boxing fans know that Alfredo Angulo is a warrior and always looking for the biggest and best challenge. As Schaefer noted, "he is vicious and always on attack. That is why he has so many fans. And people watch."

Angulo's trainer, Virgil Hunter stated, "Alfredo is very much up for this fight. We understand the magnitude of this opportunity and plan to make the most of it...We've been able to give Alfredo many different looks in sparring. We have no injuries, no setbacks. He is right on target...I don't think anyone should want to miss this fight."

Angulo greeted the media and expressed his gratefulness for the opportunity to fight Canelo and that he is ready to put on a good show and an exciting fight. "I've always given 100% in the ring. There is a reason why I am in this fight," he proclaimed.

Angulo expressed that Canelo wants to demonstrate to his fan base that he is ready to fight a good strong fighter, however, "I've already fought good fighters with a lot of talent with experience. Canelo has learned a lot in the past couple years...and is getting better."

Angulo feels that he has always been the underdog and with no title on the line, what motivates him are his fans. When asked what it next for him after Canelo, Angulo replied, "I'm not worried about who's next. My team can figure it out after March 8th. El Perro no le tiene miedo a nadie."

The one thing that Angulo did guarantee was, "When two Mexicans get in the ring, it is a guaranteed exciting show!"