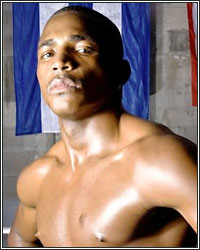 Sources close to the information have informed us that a potential clash between interim WBA jr. middleweight champion Erislandy Lara and former jr. middleweight champion Ishe Smith is currently being discussed and could come to fruition in the very near future. In fact, we're told that the bout could end up as the main event of a Showtime doubleheader being targeted for April 26, exactly one week prior to the May 3 showdown between undefeated pound-for-pound king Floyd "Money" Mayweather and WBA welterweight champion Marcos Maidana.

Earlier this year, Smith made it clear that he had no qualms about fighting Lara, who has found it increasingly difficult to find willing challengers as of late. "I don't deem him no type of boogeyman or think people are scared to fight him. I don't look at him like that. He ain't built like that. He ain't cut like that to me. He decent, but I'm not overly impressed," Smith would tell FightHype's own Percy Crawford back in January. "Lara turned the fight down with me after his promoters contacted Leonard Ellerbe and asked us would we take the fight. I said yes and Golden Boy called us back and I guess they said no. I'm gonna do what I can do to make that fight at 154."

Not long after that interview, both fighters engaged in a brief war of words on Twitter. If the fight does indeed get made, it looks like they'll be able to continue that battle, and this time, they can let their fists do the talking.
[ Follow Ben Thompson on Twitter @fighthype ]