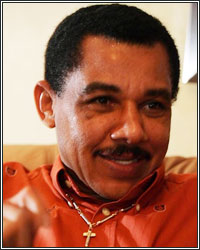 "Listen, Mayweather and Pacquiao are two talented and great fighters, no doubt about it, but Tito at 147 pounds would have just been too strong, too aggressive," stated Don Felix Trinidad Sr., father and former trainer of 2014 Hall of Fame inductee Felix "Tito" Trinidad, who shared his thoughts on a hypothetical welterweight clash between his son and today's top two names in the sport, undefeated pound-for-pound king Floyd "Money" Mayweather and multi-division world champion Manny Pacquiao. Obviously, Don Felix is going to show just a little bit of bias towards his son, however, he does bring up some very valid points when it comes to breaking down how those fights might have played out.

"A fighter like Tito, who would always go strong to the body, going to the body is the medicine to beating fighters like Mayweather and Pacquiao that like to box and use their legs as their defense. The medicine to defeat them is to go to the body and Tito was a great body puncher," Trinidad Sr. explained. "If you remember, Tito at 147 pounds was undefeated and 15-0 at 147 pounds; undefeated in title defenses. At that weight, he was undefeated and he fought at his best at 147, and I don't think Tito at 147 would lose to Mayweather or Pacquiao. As a matter of fact, I think he would beat them and possibly beat them convincingly."

BE SURE TO CHECK BACK SOON FOR MUCH MORE FROM DON FELIX TRINIDAD SR.
[ Follow Percy Crawford on Twitter @MrFighthype ]