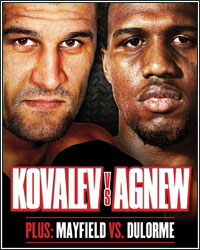 Momentes ago, at Boardwalk Hall in Atlantic City, New Jersey, WBO light heavyweight champion Sergey Kovalev kept his undefeated record intact after scoring a dominating 7th round knockout of previously undefeated Cedric Agnew. Kovalev wasted no time in backing Agnew up to the ropes, mixing his punches up to the body and head. Agnew was game though, picking his shots behind a high guard. Kovalev eventually blasted through Agnew's guard, landing a left hand that sent Agnew crashing to the canvas at the end of the second round. Agnew would survive, however, and came out trying to earn some respect in the third round, but Kovalev continued to blast through his guard.

In the fourth round, Kovalev suffered a cut from a headbutt, but that only seemed to motivate him even more as he continued to back Agnew up to the ropes. A hard body shot in the 6th round would send Agnew to the canvas again. Kovalev continued to pour on the pressure until another body shot sent Agnew to the canvas for good in the 7th round.

DULORME OUTBOXES MAYFIELD

Also on the card, jr. welterweight contender Thomas Dulorme scored a relatively easy unanimous decision victory over previously unbeaten Karim Mayfield. Dulorme used his superior height and reach to keep Mayfield at bay with stiff jabs, making sure to tie him up quickly anytime the distance was closed. Although Mayfield occasionally found a home for his right hand, it wasn't enough to offset the jabs and left hooks that were coming back at home. In the end, Mayfield was never able to get a consistent rhythm going and the judges scored the bout 98-92, 97-94, and 96-93 in favor of Dulorme.
[ Follow Ben Thompson on Twitter @fighthype ]