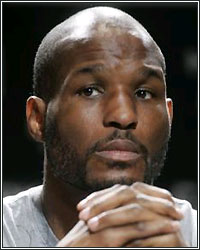 "I see a lot of difference," stated unified light heavyweight champion Bernard Hopkins, who shared his thoughts on multi-division world champion Manny Pacquiao. Hopkins, who was in attendance at the final press conference for Saturday's Mayweather vs. Maidana undercard, held court for several members of the media and he wasn't shy about giving his opinion on the changes he's seen in the Fighting Pride of the Philippines.

"I look at Pacquiao 3 years ago, right; he's smashing dudes. I remember Pacquiao when he was with Murad Muhammad. Seriously. I remember Pacquiao when Pacquiao was like a little bit better than ordinary. You know, tough guy, whatever, really ain't have a good defense. You know, lost a couple of fights early on; and then he just zoom, right? You can live and learn. I lost my first fight and I shot up, so no suspicions. But I started saying, 'Man, this dude; where'd he get this power?' He's just cracking dudes," Hopkins started off before going into much more detail.

"Fighters who have egos, right, being brutally honest like, 'Yo, this dude hit me like a heavyweight.' We normally don't say that to you. Like, 'Yeah, he hit me with a good punch,' and all that. But we don't normally say, 'Man, he hit me and I've never been hit by God.' I started sitting back saying, 'Wait a minute now!' You're hearing allegations and saying to myself, 'Wait a minute!' And then when things got really heated up, as years passed by, I seen him, zoom, decline so fast. Now he's not knocking nobody out; he's not even hurting nobody. And then, again, you're hearing things, you're reading things," he continued.

Hopkins added, "I don't know what's going on because I know that people can label somebody because they became better or they learned how to punch better, lift weights, get a fitness trainer, do this and do that, but I have seen a change from the physical, and especially the power, in Pacquiao the last 3 or 4 or 5 years. Whether that has something to do with age, whether that has something to do with he lost some of that or whatever, because I haven't knocked nobody out in 6 or 7 years since Oscar De La Hoya and I've been trying to."
[ Follow Ben Thompson on Twitter @fighthype ]