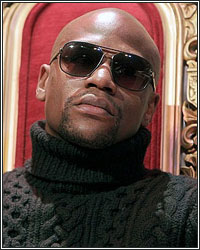 He was guaranteed to earn a minimum of $32 million for his latest performance, but the man known as "Money" expects to get more than double that amount when the final numbers are tallied. "$32M for 36 minutes. I'm waiting for the PPV numbers to come in so I can make another $38M on the back-end. Making it a grand total of $70M," Mayweather wrote in recent posts on his official Facebook and Twitter pages.

This past Saturday night, after 12 action-packed rounds, Mayweather added the WBA welterweight title to his trophy case after scoring a majority decision victory over game challenger Marcos Maidana. It was a gutsy performance for Maidana, who was credited with landing 221 punches on Mayweather, the most that any opponent has reportedly landed since Compubox began tracking his fights.

To put the numbers into perspective, the $32 million that Mayweather was guaranteed breaks down to $14,815 per second or $144,796 per punch over the course of the 12 rounds (36 minutes total). Depending on how those pay-per-view numbers turn out, those numbers could nearly triple. Not bad for a night's work.


$32M for 36 minutes. I'm waiting for the PPV numbers to come in so I can make another $38M on the back-end. Making it a grand total of $70M.

— Floyd Mayweather (@FloydMayweather) May 6, 2014
[ Follow Ben Thompson on Twitter @fighthype ]