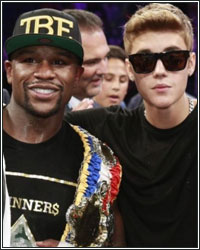 At first glance, the pairing of Floyd Mayweather and Justin Bieber may seem odd, but the duo has much more in common than one would expect. Many assume that Bieber's relationship with Mayweather is strictly isolated to the occasional ring walk whenever he gets ready for battle. In reality, however, their world's have become far more intertwined after a shared interest in anti-bullying prompted the pop superstar and the pound-for-pound king of the ring to become business partners.


| | |
| --- | --- |
| | |
The two officially met through John Shahidi, co-founder and CEO of Shots Mobile, Inc., which has developed an app called Shots. Designed specifically with anti-bullying in mind, Shots allows its users to be themselves by posting selfies that can't be filtered or edited. The fact that there is no commenting system eliminates bullying, and that concept is what brought Bieber and Mayweather together to sign onto this business venture. Having millions of followers on various social media outlets, Shots is the one place where they can feel comfortable freely sharing positive moments of their lives without the worry of negativity and ridicule from naysayers.
| | |
| --- | --- |
| | |
Through their working relationship, they quickly discovered that they shared a number of common interests, and it didn't take long for their friendship to grow. Recently, FightHype.com got a chance to see firsthand what their relationship is like. While the world saw them getting "first class treatment" at the Big Boy Mansion, the focus was really on business as they discussed the future development of Shots. They also discussed multiple other business ventures, bouncing ideas off one another and sharing advice on how to expand their portfolios. It was clear that this seemingly odd couple have a strong, honest friendship much deeper than what many assume.

[ Follow Ben Thompson on Twitter @fighthype ]