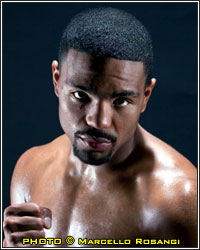 Gary Shaw Productions and Antonio Leonard Promotions undefeated Super-Middleweight contender, Brandon "Flawless" Gonzales (18-0-1, 12 KOs) ranked IBF # 3, is in beast mode for his upcoming showdown with IBF # 4 James DeGale (18-1, 12 KOs) for the IBF mandatory position. The 12-round bout is set to take place at Wembley Stadium in London, United Kingdom on May 31, 2014, on the undercard of Carl Froch (32-2, 23 KOs) vs. George Groves (19-1, 15 KOs).

Gonzales on the current status of his career...

"My promoters Gary Shaw and Antonio Leonard, along with my manager James Prince are doing a great job with my career. I'm in a big fight and I can't ask for anything more. Now it's up to me to bring home the victory. I'm very happy with the current standing of my career."

Gonzales on training with Virgil Hunter...

"Virgil and I got a great game plan for this fight. We see some weaknesses in Degale's defense that I'll be taking advantage of. Sparring is almost wrapped up and I got good work with elite level guys. I've been training extremely hard for this fight. My mind is in beast mode and I can't wait to get in the ring.

Gonzales speaks on traveling overseas to fight in hostile territory...

"I know my back is against the wall traveling to DeGale's home turf and getting a decision will be difficult, but I'm confident that the judges will be fair. With 80,000 people rooting against me, I'm going to be extra motivated to silence the crowd. I'll be looking to end the fight early but if I need to go all the way then I'm prepared to go the distance. "

Gonzales comments on his match up with James DeGale...

"I'm anticipating a very strategic approach from DeGale but that won't matter because I'm going to be dictating the pace and setting the tone. He's accomplished winning an Olympic Gold Medal so we know he has great boxing skills that got him to this point in the pros. So with that being said, I'll have to implement my game plan and make adjustments as the fight goes on."

Gonzales addresses his hunger to be a world champion...

"This is the biggest fight of my career. A win puts me in the mandatory position with the IBF. I know if I come out on top, I'll most likely be fighting the winner of Froch vs. Groves for the IBF Middleweight title. I'm a hungry fighter and nothing is going to stop me, I'm on a mission to be the best. My dream of becoming a world champion is so close I can taste it."