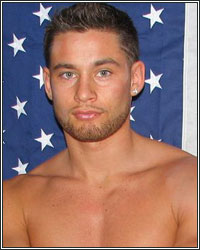 Moments ago at the Barclays Center in Brookly, New York, undefeated jr. welterweight Chris Algieri shocked former champion Ruslan Provodnikov, scoring a slit decision to capture the WBO jr. welterweight title. It looked like it might be an early night for Provodnikov after scoring two knockdowns in the first round, but Algieri was able to battle back with his superior boxing skills, giving the champion more problems than he and his trainer had anticipated.

Provodnikov was quick to cut off the ring and back Algieri up to the ropes. Although Algieri did his best to fight behind a rapid jab, Provodnikov simply walked through the punches until he landed a devastating left hook that floored the challenger. Algieri beat the count, but Provodnikov jumped on him again and quickly forced him to take a knee from the pressure. The right eye of Algieri began swelling badly and Provodnikov looked like he smelled blood.

Algieri started to let his hands go in the second round, doing a better job of boxing and moving, but Provodnikov continued to back him up to the ropes looking to land more big hooks. As the rounds continued, however, it looked like Algieri was getting more and more comfortable utilizing his superior boxing skills, despite the fact that he didn't possess the power to make Provodnikov respect his punches.

By the middle rounds, Algieri appeared to have gotten himself back into the fight as he continued to pepper Provodnikov with jabs, boxing in circles and landing good combinations. Regardless, Provodnikov continued to press forward landing thudding shots. Entering the championship rounds, Algieri may have been down on the scorecards thanks to the early knockdowns, but that didn't stop Provodnikov's trainer, Freddie Roach, from telling him they needed a knockout to seal the deal.

Despite a badly swollen eye that looked like it was nearly shut, Algieri continued to outbox the champion in the final two rounds. The body language of Provodnikov in the corner was that of a fighter who knew he had been in a more difficult fight than expected. In the end, the judges scored the bout 117-109 (Provodnikov), 114-112 (Algieri), and 114-112 (Algieri), giving the split decision victory to Algieri.
[ Follow Ben Thompson on Twitter @fighthype ]