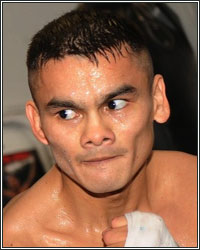 It looks like former welterweight champion Marcos Maidana isn't planning on being able to use his preferred choice of Everlast MX gloves for his September 13 rematch with undefeated pound-for-pound king Floyd "Money" Mayweather. According to his trainer, Robert Garcia, he will be wearing the same gloves that he wore in their first fight. "It's gonna be the Powerlock," Garcia commented in a recent video interview with Elie Seckbach of ESNewsReporting.com. Evidently, they've already been training with the Everlast Powerlock gloves and Garcia sounds confident that it won't be an issue.

The Everlast MX gloves were at the center of controversy in their first fight when Team Mayweather objected to the use of a pair of customized Everlast MX gloves which they claimed had very little padding in the knuckle area. Upon closer inspection, the Nevada State Athletic Commission agreed that the customized gloves were not approved, however, a second pair of stock Everlast MX gloves were deemed acceptable.

That decision, however, did not sit well with Team Mayweather, who questioned the safety of gloves that utilize horse hair as part of the padding instead of using all foam. After hours of back and forth negotiations on the eve of the fight, Maidana finally agreed to use Everlast Powerlock gloves, which uses all foam padding, instead. It appears for the rematch, however, a similar last minute glove controversy will not be an issue as Maidana is already planning on fighting in the same type of gloves he used this past May.




[ Follow Ben Thompson on Twitter @fighthype ]