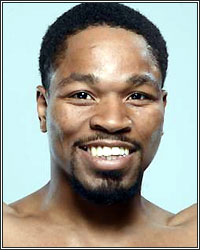 Unbeaten IBF Welterweight World Champion "ShowTime" Shawn Porter and undefeated contender Kell Brook held an open media workout at Barry's Gym in Las Vegas on Wednesday as they reach the apex of preparation for next Saturday's world championship showdown.

Porter (24-0-1, 15 KOs), of Akron, Ohio, will defend his 147-pound crown against Britain's Brook (32-0, 22 KOs) in the main event of a SHOWTIME CHAMPIONSHIP BOXING tripleheader Saturday, Aug. 16, live on SHOWTIME® (9 p.m. ET/6 p.m. PT) from the storied StubHub Center in Carson, Calif., home to some of the most memorable, non-stop action, exciting fights in recent boxing memory.

Here's what Porter and his trainer/father had to say during Wednesday's workout:

SHAWN PORTER, IBF Welterweight World Champion

"I stay hungry because I know the feeling. I know what it takes to get to this position; I know the struggle along the way. It takes a lot of hard work and commitment.

"I'm not concerned about Kell Brook. Earlier today, people were asking me about his power, and I don't have much to say about that other than that I haven't seen anything on film that makes him different from anybody else.

"I believe that Brook will feel the added pressure in this being his first title fight. I handled it great. I welcomed it and loved it going into my first title fight. I'm not sure if he has the same personality to handle the extra pressure. I do know there will be a big crowd out there and I can't wait. The West Coast is hot and the crowd gets loud. I'm ready.

"This fight will be pure entertainment for the crowd, and I love to entertain the crowd and my fans. I have played this fight in my head thousands of different times from going the distance to me knocking him out with one punch.

"I don't know if he is the toughest opponent I've faced yet. His record (32-0) would say that he is, but if you take a look at the caliber of fighters that I've fought before him, I think the other guys are more challenging fighters, especially Devon Alexander, who has an awkward and complicated style. Not to call Kell Brook plain, but he has a more up-and-down style that will be easier to deal with.

"I've watched about six different fights on Brook, all the way back to as early as I could.

"There is no added pressure for me to win. The easy part is to make the adjustments and doing what I do. There is no added pressure. The fights in the past are in the past. For me it's on to bigger and better things so this fight has to be bigger and better. We had an excellent training camp and I am in the best shape of my life. With that being said, I believe this fight will be more spectacular."

KENNETH PORTER, Shawn Porter's Father and Trainer

"When you get to this level it's necessary to have everything that he needs in one facility so that he doesn't have to travel or worry about weather or be concerned that he has to go into a different city to train. We want to control all aspects of the environment where we train. There are certain types of bags that he likes that other people don't. We want to make sure that he is completely comfortable.

"There are not many welterweights that stay within 12 pounds of their weight like Shawn does, and he has stayed at that weight year-round for two years now. He is very disciplined because this is his lifestyle. He doesn't go on a diet, this is the way he lives. He doesn't go to camp, this is the weight he is at year-round until he is done with boxing.

"[Julio] Diaz was a two-time world champion, Devon [Alexander] was a two-time world champion, Paulie [Malignaggi] was a two-time world champion in different weight classes. Brook doesn't have the resume of those guys. Not that Shawn made it look easy against those guys, but he pretty much dominated those fights. This is another level stepping up for Brook and he has to climb up to us. Once he tries to get up to us, Shawn will kick him right back down, that's just what he does."

# # #

Porter vs. Brook is a 12-round fight for Porter's IBF Welterweight World Championship promoted by Golden Boy Promotions and sponsored by Corona and AT&T. In the co-main event, the WBC Super Middleweight World Champion Sakio Bika defends his belt in a rematch against Anthony Dirrell, and in the televised opener, Omar Figueroa defends his WBC Lightweight World Championship against Daniel Estrada. The event will take place at StubHub Center in Carson, Calif., and will air on SHOWTIME CHAMPIONSHIP BOXING (SHOWTIME 9 p.m. ET/6 p.m. PT) and will be available in Spanish via secondary audio programming (SAP). Preliminary bouts will air live on SHOWTIME EXTREME (7 p.m. ET/PT, delayed on the West Coast).

Tickets priced at $150, $75, $50 and $25, plus applicable taxes, fees and services charges are on sale now and are available online at AXS.com, by phone at 888-9-AXS-TIX (888-929-7849) and at StubHub Center Box Office (Monday through Friday from 10 a.m. PT to 6 p.m. PT). VIP Suites are available by calling 877-604-8777. For more information on group discounts or VIP packages, please call 877-234-8425.