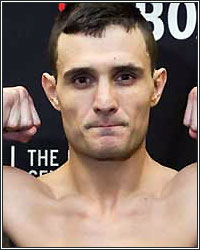 With just days to go until their respective bouts, fighters on the "Danny Garcia vs. Rod Salka" fight card hosted a final press conference Thursday at Barclays Center before they fight this Saturday, August 9.

Here is what the challenger, Rod Salka, had to say Thursday:

ROD SALKA, Super Lightweight Contender

"The talking is done. We've been talking about this too long and I'm sick of it.

"The fight is on Saturday so be ready to come out and see a great fight. Whatever is going to happen is going to happen and I'll talk to you guys after the fight.

"I trained hard in California University of Pennsylvania. I've been training there ever since I was a student. It's like a second home and helped prepare me for this fight.

"The road to get here has been a long time coming. I never thought I would be in this position and here I am.

"When I first started boxing, it was all about survival and staying in the game. I did everything from serving tables, and other jobs so that I could make money and keep the dream alive of getting to this day."

# # #

"GARCIA VS. SALKA," a 10-round welterweight bout on Saturday, August 9, is promoted by Golden Boy Promotions and sponsored by Corona and AT&T. In the co-main event, promoted by Golden Boy Promotions in association with Dibella Entertainment, IBF Junior Welterweight World Champion Lamont Peterson puts his title on the line against Edgar Santana in a 12-round championship bout. Opening the telecast, promoted by Golden Boy Promotions in association with Greg Cohen Promotions, Brooklyn's own Daniel Jacobs takes on Jarrod Fletcher for the vacant WBA Middleweight World Title. The event will take place at Barclays Center in Brooklyn, N.Y., will air live on SHOWTIME (9 p.m. ET/PT) and will be available in Spanish via secondary audio programming (SAP).

Live preliminary fights on SHOWTIME EXTREME begin at 7 p.m. ET/PT (delayed on the West Coast) and feature Sadam Ali defending his WBO NABO Intercontinental Welterweight Championship against Jeremy Bryan. Also featured will be a 10-round lightweight bout between Anthony Peterson and against Edgar Riovalle plus undefeated super lightweight Zachary Ochoa taking on Luis Cervantes in a swing bout.

Tickets priced at $250, $125, $75, $50 and $25, plus applicable taxes and service charges are on sale now at www.barclayscenter.com, www.ticketmaster.com, all Ticketmaster locations, by calling 800-745-3000 and at the American Express Box Office. For group tickets, please call 800-GROUP-BK.