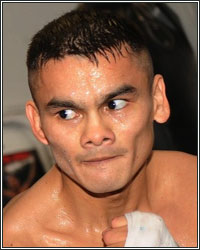 As we inch closer to the highly anticipated boxing event "MAYHEM: Mayweather vs. Maidana 2," both Floyd "Money" Mayweather and Marcos "El Chino" Maidana participated in separate "network affiliate days" earlier this week in promotion of the SHOWTIME PPV presentation of their rematch.

Here's what Marcos Maidana had to say with just over a month to go before mayhem in Las Vegas.

MARCOS MAIDANA, Former Welterweight World Champion

"I don't know if I'd say this will be easier because even the first one, I didn't find very difficult. But I already know him and I think it's a great advantage that I already know Mayweather because he hasn't given a lot of fighters the rematch.

"I don't like the media attention, but I have to do it. It's part of my job for the fight and for the promotion.

"I think more attention is coming because Mayweather is very well known and when you give him trouble and give him a good fight people start to recognize you."

# # #

"MAYHEM: Mayweather vs. Maidana 2," a 12-round world championship bout for Mayweather's 147-pound titles taking place Saturday, September 13 at MGM Grand in Las Vegas, is promoted by Mayweather Promotions, Golden Boy Promotions and sponsored by Corona Extra, O'Reilly Auto Parts and "The Equalizer." The event will be produced and distributed live by SHOWTIME PPV® and is the fourth fight of a lucrative six-fight deal between Mayweather and Showtime Networks Inc.

For more information visit www.mayweatherpromotions.com, www.goldenboypromotions.com, www.sports.sho.com, and www.mgmgrand.com and follow on Twitter at @floydmayweather, @chinomaidana, @mayweatherpromo, @goldenboyboxing, @ShoSports and @Swanson_Comm, follow the conversation using #Mayhem and become a fan on Facebook at www.facebook.com/FloydMayweather, www.facebook.com/MayweatherPromotions, www.facebook.com/GoldenBoyBoxing and www.facebook.com/SHOBoxing.