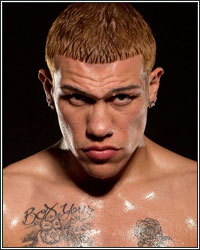 The inaugural Big Knockout Boxing pay-per-view event held at the Mandalay Bay Events Center in Las Vegas, Nevada delivered what was promised: a fast-paced, action-packed evening of fights. In the main event, Gabe Rosado became the first BKB Middleweight Champion by battering Bryan Vera en route to a 6th round TKO victory. Both fighters entered The Pit and immediately began exchanging punches. Gabriel Rosado used what little ring there was by circling Vera, who rushed in with wide, looping shots, eating several powerful rights from Rosado.

Round 3 saw the first knockdown, according to BKB rules, when Vera forced Rosado into the "Safety Zone" and Rosado tripped, earning a standing 8 count. Immediately following that, Rosado picked up the pace and timed Vera coming in, landing a beautiful straight right, resulting in a knockdown to end an action-packed 3rd round. The pace never slowed and Rosado continued to dominate. In the 6th round, Vera met the canvas again after walking directly into yet another straight right from Rosado. Vera made it to his feet, but staggered around The Pit, prompting Kenny Bayless to end the fight at 1:59 of the 6th round.

The crowd of 4572 fight fans seemed receptive to the BKB format, eliciting cheers when the fighters engaged and powerful punches were exchanged. However, the crowd quickly turned sour at any lull in action, or any hint of traditional boxing strategy from a fighter was observed, resulting in boos and chants instructing the fighters to "KNOCK - HIM - OUT."

Whether BKB will be a success or not has yet to be determined, but in the inaugural pay-per-view event, Big Knockout Boxing kept its promise and delivered several action-packed, crowd-friendly bouts.