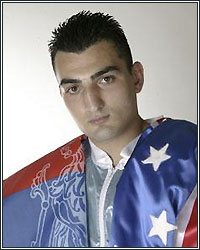 "I'm going to win by knockout. I have too much happiness and too much strength going into the ring that I will win by knockout," stated jr. middleweight contender Vanes Martirosyan, who had some final words following the weigh-in for his upcoming clash tonight with his opponent, Willie Nelson. Both weighed-in at 153 pounds for their 10-round collision of once-beaten junior middleweights. Martirosyan will be stepping into the ring with a heavy heart just five days after the death of his promoter Dan Goossen, brother of his trainer, Joe Goossen. Check out what else he had to say.

VANES MARTIROSYAN

"We have a good game plan put together with Joe [Goossen]. We're ready to box or brawl if we need to. We'll just take it from there. We're ready for whatever he bring and we're just going to be on top of him the whole fight.

"We've been heartbroken since we've heard the news [that Dan passed]. Especially because they kept it away from me the whole training camp. It was a big surprise to us. The second we heard it we all, my wife, my mother, we all started crying.

"But, in a way, we're happy that we get to fight Saturday night and dedicate this victory to Dan Goossen.

"It gives me more motivation to fight and make him proud because I know he's going to be looking down on us. On Saturday we get to thank him.

"I think this will make me stronger. The last thing, boxing-wise, that Dan said to Joe was, "make sure Vanes wins.' I'm taking that in the ring with me. He's going to be watching me from above so we're going to put on a good performance for him.