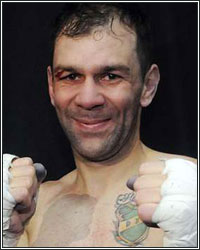 "This is the perfect matchup for me and my chance to show that I deserve to be a world champion," stated jr. lightweight Fernando Saucedo, who had some final words following the weigh-in for his upcoming clash tonight with his opponent, Rances Barthelemy. Both fighters tipped the scale at the limit of 130 pounds during the official weigh-in for their world title showdown, tomorrow/Saturday, LIVE on SHOWTIME at 9 p.m. ET/PT, delayed on the West Coast. Check out what else he had to say!

FERNANDO DAVID SAUCEDO

"I came here to win the world title and that's what I'm going to do.

"It's a dream come true to fight here in the United States. It's obvious that I can't do what I did in my previous 60 fights. I need to bring a little more to go home with the title. I'm very well-prepared and I'm looking forward to getting in the ring."