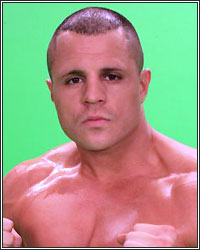 Las Vegas-based cruiserweight contender BJ "El Peligroso" Flores (30-1-1, 19 KOs) has it all as a boxer, minus one important thing.

An articulate and intelligent man with smooth on-camera delivery, Flores does excellent work in his regular role as a color commentator for NBC-televised boxing. As a fighter, he is clean-living and devoted to his craft, with a wealth of skills, an extensive list of regional championships won, and a work ethic in the gym that few can rival.

The fact is BJ Flores could become an excellent ambassador for the sport of boxing if someone would just give him that one more thing... a chance at a world title.

Flores will face Saint Louis, Missouri's Kevin Engel (20-10, 16 KOs) this Wednesday, October 8, at the Beau Rivage Resort & Casino, in Biloxi, Mississippi, on the undercard of IBF middleweight champion "King" Sam Soliman (44-11, 18 KOs) defending against former undisputed middleweight champion Jermain "Bad Intentions" Taylor (32-4-1, 20 KOs).

Presented by DiBella Entertainment and Warriors Boxing, in association with Soliman Stanley Promotions, and broadcast live on a special presentation of ESPN Wednesday Night Fights (9 pm EST/8 pm CT), the night of boxing will also feature 2004 Olympic Bronze Medallist and WBC #9 contender Andre Dirrell (22-1, 15 KOs) taking on Albany, New York's Nick Brinson (16-2-2, 6 KOs) in the 10-round light heavyweight co-main event.

Tickets are priced at $89.95, $69.95, $49.95 and $29.95, plus tax and service charges, and can be purchased at the Beau Rivage Theatre box office, or through any Ticketmaster outlet or online at Ticketmaster.com. Doors open at 4:45pm, with the first bout scheduled for 5:30pm.

A buzz surrounded Flores when turned pro 12 years ago at age 23. Coming off a brilliant amateur career that saw him win the 1997 National Golden Gloves, as well as two (2001 and 2002) US National Amateur Championships at Heavyweight, he was universally recognized as one to watch.

But 35-year-old Flores says promotional problems stalled his momentum and ground his once-promising career to a halt on more than one occasion. Since he signed with power-manager Al Haymon and advisor Luis DeCubas Jr., last April, however, Flores' bad career luck seems to be reversing and he may get that title shot someday after all.

"2015 is going to be a big year for me," said an excited Flores. "This will be the year where it all takes off. I signed with Al in late spring and I've already fought May 10, June 26 and now October 8. I'm in a perfect position now and I'm ecstatic to have so much opportunity in front of me now, thanks to Al. I can't wait to show the world how well I can fight."

Flores says DeCubas has also been instrumental in his career resuscitation.

"Louis DeCubas Jr. has also played a big part in helping my career take off. We started working together last year, and since then, one thing after another has come my way. This kid really loves boxing and has been around it a very long time and knows and understands the business. He has been a great help."

At the relatively advanced age for a fighter of 35, few would question Flores if he decided to make the transition from fighter to media figure. But according to him, that's not going to happen any time soon.

"First and foremost I'm a fighter," he explained. "Commentating is something I started doing when I wasn't getting fights, but I'm still a fighter above everything else. For me, fighting for a world championship is not about the money. Boxing is my life. Since I was a kid I would stay home from school and watch boxing on tape. And now I have hope I will get the chance to see how far I can take it."

The Beau Rivage Resort & Casino is located at 875 Beach Blvd in Biloxi, Mississippi. For more information, call (228) 386-7111. On fight night, doors open at 5:00 and the action starts at 5:30.