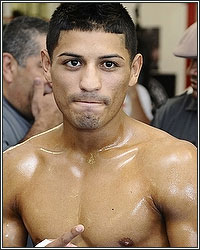 It looks like Abner Mares' stint with trainer Virgil Hunter has come to an end. Earlier this afternoon, the three-division world champion announced on his official Facebook page that he is now back with his former trainer, Clemente Medina. "I'm back where I started, with my trainer from before, Clemente Medina, and I came back to my style from before with everything I got," posted Mares.

Mares initially made the change in trainers earlier this year, citing a desire to add new tools to his arsenal. He felt Virgil Hunter would be able to provide just that. Their first fight together was this past July against Jonathan Oquendo. Although Mares scored a unanimous decision victory, many felt he did not look his best. No word yet on why Mares made the decision after only one fight with Hunter.

You can follow Luis Sandoval on Twitter @Truewest007.
[ Follow Luis Sandoval on Twitter @Truewest007 ]