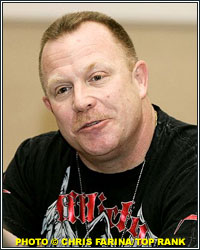 "I'm curious with this Pacquiao fight. It's either gonna go one or two ways, but I think it's gonna be a hell of a fight and this kid is gonna give Pacquiao fits or Pacquiao is just gonna knock him out early. I think the longer the fight goes, the better I think this is for this Algieri kid. If he survives an early onslaught from Pacquiao...I ain't gonna be surprised at the outcome at all," stated world-class trainer Jack Loew, who shared his thoughts on the November showdown between WBO welterweight champion Manny Pacquiao and WBO jr. welterweight champion Chris Algieri. According to Loew, if Pacquiao doesn't make a statement and take the fight right to Algieri from the beginning, he could be in for a long night.

"This kids got one hell of a jab and I don't care if it was luck or not, he beat one good ass fighter in Provodnikov. That kid can fight, he punches like a mule, and this kid gets up off the deck with his eye closed and he boxed the shit out of him. I was actually shocked when I saw Pacquiao picked this kid as his opponent. Arum is doing everything they could until they can land this Mayweather fight. I think that they really, really think that they can walk right through this guy, and this kid could blow a whole lot of plans," Loew explained during a recent conversation with FightHype.com. "And the thing is, this ain't like losing to a Marquez. You're losing to a kid that's fought for $15,000, $100,000 and now he's getting $1.5 million to fight against one of the best pound-for-pound fighters in the world and he's expected to get blown out. If he beats Manny Pacquiao, I think that Mayweather shit is out of the window. I think Pacquiao's credibility then would be questioned."

Loew added, "You don't get beat by an Algieri, that's the bottom line. If you deserve to fight Floyd Mayweather for the mega-fight of the fucking century, then you can't lose to an Algieri. Pacquiao better step up to the plate and beat the hell out of this kid and force this Mayweather fight soon."
[ Follow Percy Crawford on Twitter @MrLouis1ana ]