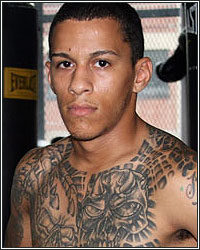 On Saturday night, October 18, Miguel Cartagena will look to win his first belt when he takes on undefeated Manny Rodriguez (9-0, 5 KO's) for the WBO Latino Bantamweight championship in Vega Baja, Puerto Rico.

The show is promoted by Fresh Boxing and M V Power Promotions and will be televised on Direct TV.

Cartagena of Philadelphia has a record of 13-1 with five knockouts.

The 22 year-old former amateur standout has had great preparation for the most important bout in his three and a half year career.

"Everything is coming along absolutely amazing. I would go as far as to say phenomenal. I feel strong, fast and focused," said Cartagena.

Cartagena has done some but not a lot of research on his undefeated foe.

"I do not know too much on Rodriguez. I do know he had an excellent background and I know he is a strong and fast fighter."

He is looking forward to his first title and glad it is with the WBO, which is based in Puerto Rico where Cartagena will be able to fight in front of family and friends from his native island.

"For me to fight for the WBO, It is very exciting. I did not expect it. I am eager to fight in Puerto Rico in front of my family."

Cartagena knows that this fight is a springboard for a major fight. He has and could fight anywhere from 112 through 118 pounds.

"I feel that I will get my shot at a world title in the next two or three fights. After I win this fight and I feel good, I will stay at Bantamweight."

"I am excited to be in Puerto Rico in front of family and fans. I am eager and happy to represent myself and Puerto Rico,"finished Cartagena.