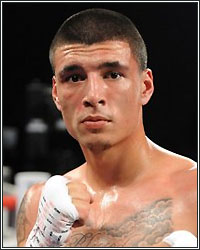 The All In Entertainment promoted Hometown Takeover Boxing Event, which was originally scheduled to take place on September 27, will be held on Saturday, November 1 at Washington, D.C.'s historic DAR Constitution Hall. The landmark event will feature the long awaited return of undefeated WBC Youth Welterweight Champion and Washington, D.C. Native, Dusty Hernandez-Harrison (23-0, 12KOs), and other top prospects from the Washington, D.C. region.

Hernandez-Harrison is looking forward to getting back in the ring following an ankle injury that postponed the bout. "I am excited by the chance to fight in my hometown and am grateful to all the fans and my team for their continued support," said Dusty. Buddy Harrison, Hernandez-Harrison's father and trainer added, "This was Dusty's first injury as a professional. He is 100% healthy and ready to go and we are looking forward to the large DMV crowd."

The boxing card will feature local rising talent from the Washington, D.C. metropolitan area, including undefeated welterweight Larry Recio (7-0, 5 KO's) and undefeated middleweight Jarrett Hurd (12-0, 7 KO's), among other exciting boxers from the DMV. Local rapper, Lightshow, is slated to make a special appearance at the event.

Jeff Fried of All In Entertainment continues the development and promotion of Hernandez-Harrison's ring education and even treats the injury and bout postponement as part of Dusty's development. "Nobody wants to get injured; although at the professional sports level the manner in which an athlete mentally and physically prepares following an injury is a learning phase in and of itself."

Other boxers on the card include Mykal Fox (3-0, 1 KO), Brandon Quarles (13-3-1, 5 KO's), Dwayne McRae (14-3, 8 KO's) and Marquel Johns (4-0-1, 4 KO's).

Event tickets are available for purchase through Ticketmaster beginning Friday, October 10. Ticket prices are $150 Ringside, $75 Preferred Reserved, $50 Reserved and $25 General Admission. For additional information please visit www.ticketmaster.com or call All In Entertainment at (202) 331-3902.