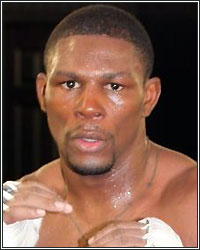 Moments ago at the Beau Rivage Resort & Casino in Biloxi, Mississippi, middleweight contender Jermain Taylor regained his championship form, defeating former champion Sam Soliman via unanimous decision and capturing the IBF title in the process. It was a rough and rugged start for Taylor, who was quickly getting frustrated by the awkward style of the champion. Often times, Soliman would rush in from the outside with wild punches before clinching and wrestling on the inside. Although Taylor tried to find a home for his more traditional jab and right hand combination, it was Soliman who was landing the more telling shots in the early stages of the fight.

Things started heating up the middle rounds as Taylor let his hands go more and began landing some solid right hands. Surprisingly, in the 7th, Taylor landed a jab followed by a grazing left hook that sent Soliman to the canvas midway through the round. Although those punches didn't seem significant, Taylor finished the round strong, landing a nice combination that froze the champion in his tracks. Between rounds, Soliman's corner began to show some concern for the 40-year-old. In the 8th round, Taylor landed a right hand that sent Soliman to the canvas for the second time. While he easily made it back to his feet, he appeared to have injured his leg, finishing the round limping and falling on occasion.

Before the 9th round began, Soliman's corner advised him that they were only going to give him one more round. While Soliman bravely fought on, it was clear that something was definitely wrong with his left leg. Following an exchange that left the champion trying to kep his balance on one leg, another right hand from Taylor would send Soliman to the canvas for a third time. Despite his corner wanting to stop the fight and the doctor taking a look at him, Soliman refused to quit. Unfortunately for him, the knockdowns had already given Taylor a sizeable lead on the scorecards. Taylor would score another knockdown in the 11th round, but by that point, Soliman was going down more from his leg injury than anything else. In the end, the judges scored the bout 116-111, 115-109, 116-109 all in favor of Jermain Taylor.
[ Follow Ben Thompson on Twitter @fighthype ]