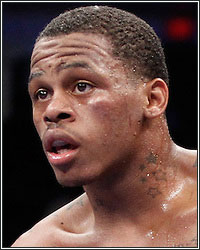 The official weights are in for tomorrow's 12-bout fight card at the Bank of Kentucky Center presented by R&R Promotions. The main event features former WBC U.S. Lightweight champion Brandon Bennett in the main event against tough veteran Tyrone Harris of Lansing, Mich., in a 10-round lightweight bout. In the co-feature, Ricardo Williams Jr. makes his long-awaited return to Cincinnati for his first fight in his hometown since 2009. Williams will be facing off against Guillermo Sanchez of Buffalo, N.Y.

The weights for the entire card are as follows:
Brandon Bennett (134.2) vs. Tyrone Harris (134)
Ricardo Williams (140) vs. Guillermo Sanchez (140)
William Jackson (146.4) vs. Gilbert Venegas (148)
Danny Calhoun (235) vs. Gary Kelley (353)
DeVonte Allen (131) vs. Antoine Knight (130.6)
Donald Anderson (179) vs. Richard McCombs (174)
Kareem Martin (147) vs. Domonique Foster (yet to weigh-in)
Russel Fiore (137) vs. Michael Doyle (128)
Jayvon Garnett (126) vs. Rudy Payne (126)
Aaron Hollis (128) vs. Vic Chambers (130)
Steve Geffrard (yet to weigh-in) vs. Mike Davis (205)
Cedric Patterson (133) vs. Ronnie Jordan (yet to weigh-in)
Antonio Brown (154) vs. Robert Montgomery (145)

Tickets for Friday Night Fights: "Put Down the Guns, Pick Up the Gloves" go on sale Friday, Sept. 19 and are priced at $15, $35, $50 and $75 and are available at all Ticketmaster outlets, the Bank of Kentucky Center, Hard Ta Knock Shoppe and Everybody's Records. The event is sponsored by CBTS, Larosa's, Radio One, and TruStaff.