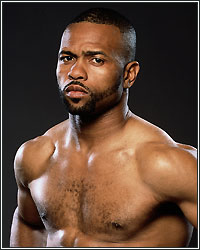 One would think that two devastating back-to-back knockout losses would be enough to humble the most arrogant of fighters. Alas, such is not the case when it comes to Roy Jones Jr. whose recent victory over Felix "Tito" Trinidad has seemingly energized and rejuvinated his self-confidence and lifted his ego to new heights. In a recent interview, Roy Jones Jr. emphatically stated that he's still one of the biggest draws in the sport!

"That just goes to show that Roy Jones Jr. is still a household name," he stated to boxinqtalk regarding the recent announcement of 500,000 buys for his fight with Felix Trinidad. "A lot of cats can't make certain moves and do certain things because they're not household names. Just because you beat Roy Jones Jr. doesn't make you a household name."

According to Roy, the impressive PPV numbers are a clear sign that his marketability is still extremely high and every fighter in and around his weight class should be lining up to face him. In fact, it's Roy's opinion that the April 12th light heavyweight fights between Chad Dawson and Glen Johnson as well as Antonio Tarver and Clinton Woods are simply a tournament to find out which fighter will get the honor to face him on pay-per-view. "Look how ugly this picture is, if Glen Johnson happens to beat Dawson, then you've got to see Tarver-Johnson 3 or you're going to see Woods-Johnson 4, none of which you want to see. Let's go on and face the facts and be real about it. What they should do is have the rounds and see who's going to emerge and be the next man to have a big PPV event against Roy Jones Jr. because they realize Roy Jones Jr. is back. That's what they truthfully and honestly are over there doing. They are over there settling the dust trying to figure out who's going to be last man standing to have a PPV duel against Roy Jones Jr. Roy Jones Jr. can go make a PPV with any of those those guys; with Glen Johnson, with Chad Dawson or with Antonio Tarver. There no secret about that. Am I lying?"

I don't know if he's lying, but I do know that it takes two to tango. If you're not a draw, it takes two names to create a successful pay-per-view event and something tells me that without the name Felix "Tito" Trinidad, those pay-per-view numbers wouldn't have gotten anywhere near 500,000. They musta forgot to report the pay-per-view numbers from the Anthony Hanshaw and Prince Badi Ajamu fights. I certainly don't remember them being anywhere near as successful as the Trinidad fight. In fact, I'll go out on a limb and say that the two COMBINED didn't do HALF those numbers. Please...somebody send me those PPV numbers if you can find them.

Regardless, while 500,000 is a good number, it's still LESS than the 520,000 buys that Trinidad did with Wright. I guess that would make Winky Wright a draw too (ha ha..ha ha...ha). Come to think of it, just look at a few of Trinidad's past past pay-per-view fights:


Trindiad-Jones: 500,000 buys
Trinidad-Wright: 520,000 buys
Trinidad-Mayorga: 470,000 buys
Trinidad-Hopkins: 480,000 buys
Trinidad-Vargas: 560,000 buys
I'll give Roy credit...at least he did more buys with Trinidad than Hopkins did, but still, the common denominator is Felix Trinidad and whether it's Jones, Winky Wright or Ricardo Mayorga, a Trinidad fight is guaranteed to get about 500,000 buys (actually a little more if you do the math).
Roy's numbers, on the other hand, look something like this:
Jones-Tarver: 302,000 buys
Jones-Tarver II: 384,000 buys
Jones-Tarver III: 440,000 buys
Jones-Ruiz: 602,000 buys
The knockout loss to Glen Johnson was FREE on HBO World Championship Boxing so I couldn't include that one. I've yet to track down those numbers from the Hanshaw and Badi Ajamu fights, but I can't imagine they did anything more than some of his earlier fights. "Roy Jones generated 160,000-175,000 buys in his first few PPV bouts against Montell Griffin, Vinny Pazienza and Eric Harding," Mark Taffett would explain in a previous
report
.
The Ruiz fight was impressive, but it took a fight against a man that outweighed him by 25 pounds just to get those results. Outside of that fight, Roy's numbers really aren't that much more impressive than the numbers of longtime rival, Bernard Hopkins:
Hopkins-Wright: 305,000 buys
Hopkins-Tarver: 330,000 buys
Hopkins-Taylor II: 410,000 buys
Hopkins-Taylor I: 370,000 buys
Hopkins-Trinidad: 480,000 buys
Jones sharply criticized Bernard's eagerly anticipated clash with Joe Calzaghe, a fight that most fans are happy to see for free on HBO World Championship Boxing. "It's good for boxing for the fans, but it's bad for them. To me, that's not the type of fight that's supposed to be on Free HBO. That's supposed to be a PPV fight. The whole reason for having regular HBO fights is to be able to capitalize on them on PPV. They're not doing a PPV to capitalize on this because Bernard knows nobody buys him. PPV is the way you capitilize on notoriety. Oscar De La Hoya did a good thing, he capitilized on his public notoriety. Because he's good and everyone knows him, you can sell him to the people because he's in the eyes of the people, they recognize him and he's had a very illustrious career. That's where he makes his paper at, off the PPV, not off the regular TV HBO fights. When you see a fight of that magnitude, you expect it to be PPV, but you can't do it unless you've got a household name. That goes to show you, neither Bernard Hopkins, nor Joe Calzaghe are a household name because they can't carry their own weight like that right now. If Roy Jones Jr. fights either one or the other, that would easily be a PPV fight."
Easily be a PPV fight? Maybe...maybe not...it kind of depends on how those two look in that fight. If Bernard wins convincingly while stinking it up at the same time, we just might not want to see Roy and Bernard hold a sparring session on pay-per-view. Roy obviously forgot that it wasn't too long ago when he too was fighting on HBO World Championship Boxing. Of course, given the outcome of that fight, I'd try to forget about it too. Roy goes on to talk about his opinion that he was responsible for getting their fight done:
"I'm so glad that Hopkins and Calzaghe are having a fight, I feel totally responsible for that. I said that after I fought Tito I was going over to Wales, I knew that would make them negotiate and get the fight done or not get it done. That's my whole method of getting them to do something, so I can get them to fight. They know when they start hearing my name, I know what this is about. I know that with me, either one of them two, could make a PPV. And me and any of those four opponents on the Showtime card could make a PPV. I know who's the draw in this situation, and they know who the draw is in this situation is. When I start talking about what I'm going to do, it forces them to shit or get off the pot. God has been merciful enough to bless me, and force them into action. I forced their hands into action. They're going to do what they've got to do, or get out of the way. Here I come. I'm so delighted to make that happen. I'm glad that Hopkins is getting the opportunity that he's getting, he's getting the opportunity to show that he is who he thinks he is. We're going to see, and may the best man win. After that, I guess I'll see the best man."
Well, despite Roy's strong opinion that he's a much bigger household name than Hopkins and Calzaghe, something tells me that those two could still do more than 500,000 buys if either one of them fought Trinidad right now...even after his latest loss to Jones. Like Roy said, let's go on and face the facts and be real about it. A draw is someone who can do great numbers no matter who he fights while a marquee name is someone who can do good numbers with another marquee name. I don't know of too many draws that have to call out other fighters as desperately as Jones has been doing these past 9 days. Roy's not a draw...he's a marquee name. He needs a good dance partner in order to look good. While I appreciate his effort to constantly remind us of the potential fights that can be made down the road, he should really just relax, let the landscape unfold and we can do this all over again some time in April...AFTER all of the potential opponents are done fighting.
Just forget about a De La Hoya fight...the current pound-for-pound king gets that one while the dethroned king is left to beg with the peasants.
[ Follow Ben Thompson on Twitter @fighthype ]