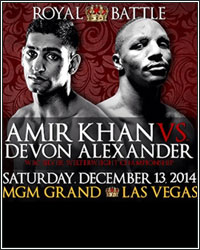 The Media Center at MGM Grand in Las Vegas was buzzing today as some of boxing's brightest stars took to the stage and addressed the media ahead of their respective bouts on the "Royal Battle: Amir Khan vs. Devon Alexander" fight card taking place this Saturday, Dec. 13 live on SHOWTIME from the MGM Grand Garden Arena.

Here is what former welterweight champion Devon Alexander had to say at today's press conference.

DEVON ALEXANDER, Former Two-Division World Champion

"I am ready to go 15 rounds if we had to. This is a tough test and I'm ready.

"I've dreamt of this my whole life. Headlining in Las Vegas is a dream come true and I plan on taking full advantage of this.

"I'm as prepared mentally and physically as I've ever been for a fight. If you look at my resume, I've fought top guys throughout my career. Khan is a good fighter and this is going to be a great fight.

"I'm going to stand and fight. This isn't going to be a track meet. At least not for me.

"I know I've got a lot of fans back home pulling for me and I've got some fans in the UK too that will be rooting for me on Saturday night too."

# # #

"Royal Battle: Khan vs. Alexander," a 12-round welterweight bout for the WBC Silver Welterweight Title, is promoted by Golden Boy Promotions in association with Khan Promotions and The Great Promotions and is sponsored by Corona Extra, AT&T and Mexico - Live It To Believe It! The event will take place at the MGM Grand Garden Arena in Las Vegas, Nev. and will air on SHOWTIME (9 p.m. ET/6 p.m. PT). In the co-main event, Keith Thurman defends his interim WBA Welterweight World Title against Leonard Bundu. Additionally, Abner Mares will face Jose Ramirez in a 10-round featherweight bout and opening the telecast, Jermall Charlo will meet Lenny Bottai in a 12-round IBF Junior Middleweight Title eliminator. The SHOWTIME CHAMPIONSHIP BOXING telecast will also be available in Spanish via secondary audio programming (SAP). Preliminary bouts will be televised on SHOWTIME EXTREME (7 p.m. ET/PT).

For more information, visit www.goldenboypromotions.com and www.sports.sho.com, follow on Twitter at @GoldenBoyBoxing,@SHOSports, @AmirKingKhan, @TheRealDevonA, @KeithfThurmanJr, @abnermares00, @FutureOfBoxing, @TwinCharlo, @ErrolSpenceJr @viciousortiz, @MGMGrand and @Swanson_Comm follow the conversation using #KhanAlexander, become a fan on Facebook at www.facebook.com/GoldenBoyBoxing and www.facebook.com/SHOBoxing, or visit SHOWTIME Boxing Blog at http://theboxingblog.sho.com/.