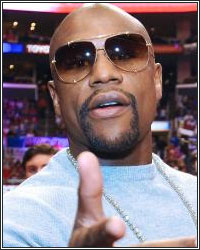 Earlier tonight, undefeated pound-for-pound king Floyd Mayweather and 8-division world champion Manny Pacquiao met face-to-face for the first time ever during halftime of the Miami Heat vs. Milwaukee Bucks NBA game. According to sources with knowledge of the situation, upon receiving confirmation that Pacquiao was scheduled to be in attendance at the game, Mayweather made it a point to also attend.

Both fighters were seated courtside, across from each other on opposite sides of the court. During halftime, it was Mayweather who first made his way over to Pacquiao, who along with his adviser, Michael Koncz, met the pound-for-pound king at midcourt. Mayweather then began speaking to Pacquiao and Koncz. Although all of the specific details of the conversation are not known, FightHype.com has been informed by two reliable sources in attendance that Mayweather wasted no time in setting the record straight with Pacquiao.

According to one source, Mayweather told both Pacquiao and Koncz to "stop lying" about signing any contracts. The same eyewitness tells us that Mayweather then informed Pacquiao that he's been told multiple lies. Mayweather explained that "he's been trying to make the fight happen" and chose to stay silent throughout the negotiation process because "I don't entertain bullshit!"

Another source tells us that Pacquiao was "on hush mode", speechless as Mayweather repeated, "stop lying," and asked him "what contract" he signed. As Mayweather reiterated to both men that lies are being told, Koncz began stuttering before attempting to lay all the blame on promoter Bob Arum, telling Mayweather that he's only saying what Arum has been telling him. Mayweather then informed both men that it's not professional to lie and "if you're not going to tell the truth, it's best to stay silent."

After their discussion, Mayweather gave Pacquiao his personal phone number, presumably so he can call him directly if there's any further confusion between the lies and the truth. At this point, it's unclear if their conversation will have any impact on finalizing negotiations for their potential May 2 showdown. It's clear, however, that Pacquiao will likely have a lot to discuss with his adviser and his promoter regarding the conversation that took place.
[ Follow Ben Thompson on Twitter @fighthype ]