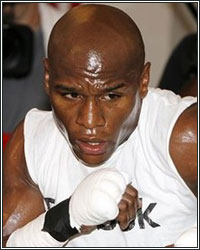 Once again, it's time for the hard work and dedication to begin. FightHype.com has been informed that pound-for-pound king Floyd "Money" Mayweather will begin training camp on Monday, March 2, for his highly-anticipated mega-fight with 8-division world champion Manny Pacquiao on May 2 at the MGM Grand Garden Arena in Las Vegas, Nevada.

The fight is a little more than 9 weeks away and Mayweather has no plans of treating Pacquiao any differently than he has any other opponent. "To me, it's just another day. It's just another fight. I mean, when you just look at the tale of the tape, I have a longer reach, I'm taller, I'm stronger, and I'm more accurate. I think I seen a major change in Pacquiao," Mayweather stated in a recent interview with FightHype.com. "He may not be the same fighter, but this is a guy that I cannot overlook. He got here somehow and some way. You never take nothing for granted because anything can happen."

Pacquiao already started training in the Phillipines for his showdown with Mayweather nearly two weeks ago, prior to the bout being finalized and officially announced. He's due to arrive in Los Angeles this Saturday, where he'll continue training at the Wild Card Boxing Club in Hollywood, California for the remainder of camp. For the next week, however, Pacquiao will still be without his longtime trainer, Freddie Roach, who is traveling to Macau to work the corner of undefeated flyweight Zou Shiming next Saturday in his attempt to capture his first world title.

Both fighters will briefly have to interrupt their training schedules in order to participate in the official kick-off press conference as well as the commercial shoot, which will likely take place in roughly 14 days.
[ Follow Ben Thompson on Twitter @fighthype ]