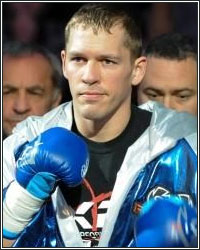 Kevin Bizier (25-2, 17 KOs) stopped Fredrick Lawson (24-1, 20 KOs) after 10-rounds of toe-to-toe action on Premier Boxing Champions (PBC) on NBCSN on Saturday night from Miccosukee Resort and Gaming in Miami.

Lawson's corner stopped the fight after the tenth round as Lawson indicated that his jaw may have been broken. Bizier pressured Lawson throughout the fight and hurt him with powerful right hands.

In the fifth round, Bizier landed one of those powerful rights perfectly on Lawson's head and sent the previously unbeaten fighter to the canvas. Making his U.S. debut, Bizier wore Lawson down and never allowed his opponent to get into a rhythm.

In the co-main event, Nicaragua's Walter Castillo (26-3-1, 19 KOs) and Keita Obara (14-1-1, 13 KOs) fought to a majority draw in a back and forth battle that appeared to have been won by Japan's Obara.

Making his U.S. debut, Obara used his length and numerous well-timed right hands to stifle the attack of the aggressive Castillo. The Nicaraguan Castillo came out of the gate with a strong second round when he hurt Obara on the ropes with multiple flurries.

Obara appeared to be the fresher fighter in the later rounds and threw sharp punches while controlling the fight with his movement. Castillo was able to send Obara into retreat mode at moments late in the fight with his all-out barrages, but still took plenty of punishment for his efforts.

Castillo was bleeding from his eye, mouth and ear at different moments throughout the 12-round affair. The final judges totals were 115-113 for Obara and 114-114 twice.

Here is what the fighters had to say Saturday:

KEVIN BIZIER

"My plan was to stay close, not let him breathe and it worked. I put too much pressure on him.

"I was surprised. He's not a puncher like his record would indicate. He hit me well, but never hurt me. I never felt tired or any pain. In the tenth round I was still very strong.

"He was starting the rounds strong but he would fade by the end of the round and that's when I would come on"

FREDRICK LAWSON

Fredrick Lawson did not comment due to injured jaw.

WALTER CASTILLO

"The fight was a very good, strong fight. I respect the decision of the judges. I fought my best.

"The eye did affect my vision. As soon as I got hit, everything went blurry. My corner did a good job to get me through the 12 rounds. I gave it my all, but the eye did hamper the things I was trying to do.

"I would definitely fight him again. I would like to have a final decision over who the winner was. If he will fight, I would love to."

KEITA OBARA

"It's my fault for not knocking him out. I don't agree with the decision, but it's my fault in the end because he was still there at the end of 12 rounds.

"I landed good punches on him, but none were knockout punches. I knew to beat him here I would need to get the knockout and I did not get it.

"It was really fun and exciting to fight in U.S. Before the decision was read I was having the time of my life. Now I'm disappointed in the decision.

"I would fight him again if the arrangement were made."

# # #

PBC on NBCSN was promoted by Warriors Boxing.

For more information visit www.premierboxingchampions.com and www.nbcsports.com/boxing, follow on Twitter @PremierBoxing, @WarriorsBoxingProm, @NBCSports and @Swanson_Comm and become a fan on Facebook at www.Facebook.com/PremierBoxingChampions, www.facebook.com/NBCSports and www.Facebook.com/WarriorsBoxingPromo. Highlights available at www.youtube.com/premierboxingchampions.