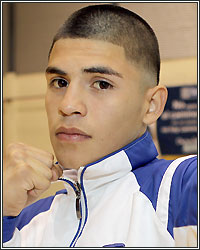 Undefeated boxing legacy and fan-favorite Diego De La Hoya (12-0, 7 KOs) of Mexicali, Mexico will kick off an intense weekend of boxing on Friday, November 20, as he meets fellow countryman Giovanni "Lloviznas" Delgado (15-3, 9 KOs) of Mexico City, Mexico in what is sure to be an explosive eight-round super bantamweight main event at The Joint at Hard Rock Hotel & Casino in Las Vegas, airing live nationally on Estrella TV's Boxeo Estelar.Friday night's lineup will also feature a classic Puerto Rico vs. Mexican battle as the co-main event, when Caguas, Puerto Rico's John Karl Sosa (13-0, 6 KOs) takes on Guadalajara, Jalisco, Mexico's Alan Sanchez (16-3-1, 8 KOs) in an eight round welterweight fight; which will serve as a prelude to the November 21 Miguel Cotto vs. Canelo Alvarez mega-fight at the Mandalay Bay Events Center, produced and distributed live by HBO Pay-Per-View.

De La Hoya vs. Delgado and Sosa vs. Sanchez join an impressive card of previously announced fighters that features a classic televised opening bout between Mexican brawlers Horacio "Violento" Garcia (29-1-0, 21 KOs) and Raul "Bule" Hidalgo (24-13, 18 KOs), in an eight-round featherweight televised co-main event. Opening the night and The RingTV Live Stream, Francisco Esparza (1-0) of Las Vegas and of Fernando Vargas' Feroz Fight Factory, will face Miguel Angel Aranda of Hawthorne, Calif., who will be making his professional debut in a four-round featherweight bout. Also part of the Ring TV Live stream, Roy "Pit Bull" Tapia (11-0-2, 6 KOs) takes on Erik Ruiz (14-4, 6 KOs) in an eight-round super bantamweight bout; Jason "El Animal" Quigley (8-0, 8 KOs) from Donegal, Ireland will participate in a six-round middleweight fight. Opponents will be announced shortly.

Diego De La Hoya vs. Giovanni Delgado is presented by Golden Boy Promotions and sponsored by Corona Extra and Carmelita Chorizo. Doors open at 4:30 p.m. and the first bout begins at 5:00 p.m. The Boxeo Estelar broadcast will air live on Estrella TV at 9:00 p.m. ET/6:00 p.m. PT. The card will also stream live on EstrellaTV.com and on YouTube via Fenomeno Studios. The Ring TV live stream will begin at approximately 5:00 p.m. PT through 6:00 p.m and can be viewed on RingTVLive.com, YIPTV.com, Fightsports.tv, UCNLive.com, Facebook.com/RingTV, Livestream.com, and The Ring TV Channels on Roku and Amazon Fire.

Tickets, priced at $95, $65, $35 and $25, not including applicable service charges and taxes, are on sale now. Tickets are available for purchase by visiting The Joint box office, calling 888.9.AXS.TIX or online at www.axs.com.

Diego De La Hoya has thrilled fans with his impressive boxing skills since making his professional debut in 2013. Fighting with power, the Mexicali, Baja California, Mexico native has stayed busy in 2015 with an impressive victory over world title contender Manuel "Suavecito" Roman at Fantasy Springs Resort Casino in February, and defeating Ramiro Robles in his first appearance at LA FIGHT CLUB in May. The rising star followed up with quick victories over Jose "Hollywood" Estrella in July and Jesus "Estrella" Ruiz in September. De La Hoya will make his highly anticipated return to the ring as he defends his undefeated status on November 20.

Giovanni Delgado is looking for victory when he returns to the ring on Nov. 20 after suffering a difficult loss to Joseph "Jojo" Diaz, Jr. in his U.S. debut on the May 9 undercard of Canelo vs. Kirkland earlier this year. Delgado has impressed since making his debut in 2010, which led to a two-year winning streak. He suffered his first loss against Robert "Escorpión" Pucheta Amador after enduring cuts over both eyes, stopping him in the sixth round. Since then, Delgado has added three victories, all by knockout. Delgado will be eager Nov. 20 to prove to himself and the fans that he can added another win to his resume, even over an opponent as tough as De La Hoya.

Fighting out of Caguas, Puerto Rico, a city known for its boxing history, John Karl Sosa is hoping to one day become part of that legacy. The welterweight prospect has had a stellar record thus far staying active in 2014 and winning all four of his fights via decision. Most recently, Sosa faced Joaquin "Chico" Chavez in April and defeated the tough fighter via unanimous decision. Now, the undefeated star is looking to conquer a victory for his native land when he faces the Mexican Alan Sanchez, ahead of the mega fight between Miguel Cotto and Canelo Alvarez.

Hailing from Guadalajara, Jalisco, Mexico and now fighting out of Fairfield, California, Alan Sanchez is looking to add another victory to his record. Undefeated since 2014, the 24-year-old has four straight victories and will be looking to continue the momentum on Nov. 20. Sanchez was last seen in the ring in June when he faced Carlos "Kalimba" Lozano and defeated him by unanimous decision. Now, the Mexican fighter will be looking for a victory over Puerto Rico when he faces Puerto Rico's John Karla Sosa on Nov. 20.

For more information visit www.goldenboypromotions.com, www.estrellatv.com, www.hardrockhotel.com, follow on twitter at @GoldenBoyBoxing, @EstrellaTV, @HardRockHotelLV and become a fan on Facebook at www.facebook.com/GoldenBoyBoxing, www.facebook.com/EstrellaTVNetwork, www.facebook.com/HardRockHotelLV visit us on Instagram at @GoldenBoyBoxing, @EstrellaTV and @HardRockHotelLV and follow the conversation using #BoxeoEstelar.