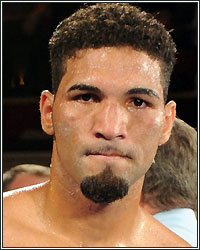 In a telecast showcasing four fights that lasted a total of 13 rounds with 11 knockdowns and four knockouts, boxing fans were treated to a night of sensational Premier Boxing Champions (PBC) on Spike action from the Beau Rivage Resort & Casino in Biloxi, Miss. The evening culminated with an unforgettable all out war between light heavyweights Edwin Rodriguez and Michael Seals.

Rodriguez came out swinging from the first bell, dropping Seals in the first 30 seconds of the bout with a hard left. Seals hit the canvas, got back on his feet and dropped Rodriguez not even 30 seconds later. With 10 seconds to go in the first round, Seals dropped Rodriguez again, putting round one in the running for "Round of the Year."

Both combatants were slightly cautious coming out of their respective corners in the second round, but it was Rodriguez who dropped Seals with a right hand late in the round and continued to hurt him with punches heading into the end of round two. The fight was stopped 24 seconds into round three when Rodriguez pounded Seals with a right hand that sent him thundering to the canvas causing the crowd in Biloxi to go wild and putting the bout in the conversation for "Fight of the Year."

Rodriguez said of his performance:

"Seals was really tough. I knew he was tough going into it, but he proved it tonight. He threw hard punches, but I did what champions do. I got back up. Anyone can go down in a fight, but its if you get back up and how you get back up that matters. Sh*t happens. You just have to keep on fighting. Just like in life - you have to be able to get back up.

"He caught me with some good shots, but in the end, I was able to finish him off.

"It was a great fight. It feels great. We were both in tremendous shape. My hat goes off to Michael Seals. We gave the fans a great show."

Seals, who complained of dislocating his shoulder following the punch that first sent Rodriguez to the canvas, is hungry for a rematch saying:

"Every time I threw my jab it landed, but I dislocated my shoulder in the first round. I had him with my punches. If I had all my tools, there is no way he could have beat me.

"I had him beat in the second round. I know it. I felt like the ref was going to stop it. If he stopped it with me, why didn't he stop it with him?

"It was a great fight. He is a tough guy. I want a rematch. Please give it to me."

In the quick, yet action-packed televised opener that saw three knockdowns in less than two rounds, Thomas Williams Jr. scored an exciting second round TKO over Humberto Savigne in a light heavyweight showdown.

Williams Jr. asserted his excellence to begin the second round, knocking down Savigne with a series of punches. Savigne was able to make it to his feet only to be backed up against the ropes as Williams Jr. continued throwing flurries of punches that caused referee Keith Hughes to wave off the match in minute 1:48.

"I'm very happy with my performance," said Williams Jr. "I haven't been in the ring in 11 months and I was ready. It felt a little different. That played a small part into me getting knocked down. I came back and fought someone with a lot of power. For me to come back and fight a fighter like him shows a lot.

[On being knocked down in the first round] "I wasn't paying attention. I wasn't sticking to the game plan. I was trying to set something up and I got caught with a right. I was very surprised. It woke me up. He caught me going the wrong way. Threw a shot. It didn't hurt me. It woke me up. I said 'It's time to go to work now.'

"I knew he was going to get cocky after he knocked me down and of course I took advantage of it."

After what he felt was a promising start, Savigne credited the quick ending on abandoning his game plan.

"In the first round I felt like I was controlling the pace of the fight. There was a flash knockdown and I got right back up and knocked him down. I just got a little bit desperate. I went to slug him and should have maintained my distance.

"The problem was, I got desperate. In my last couple of fights, I haven't been able to focus.

"I ended up making weight, but we missed our flight coming here and my whole schedule was thrown off. Not an excuse, but it definitely played into my performance tonight."

Unbeaten welterweight prospect Bryant Perrella got an opportunity to showcase his skills as part of the Spike telecast and did not waste a moment making an impression. Seconds after the opening bell tolled, Perrella (12-0, 10 KOs) landed a crushing right to the body of Chaquib Fadli, sending him to the canvas, resulting in a first round TKO.

"I'm just happy I got the job done," said Perrella. "We did what we had to do - adjust, adapt and take care of business. This is my time and my destiny. Nothing is going to stop me from achieving my dreams."

In the fight immediately before the main event, powerful middleweight Fernando Guerrero scored an exciting 7th round TKO over Brazilian puncher Daniel Souza Santos in an action-packed fight that saw fists flying from the opening bell. But it was a quick barrage of punches that sent Souza Santos to the canvas. Despite being able to stand, the referee waved off the bout.

"For me, this fight was all about preparation," said Guerrero. "When you go through trials and tribulations, you grow as a fighter and as a person. I have the best team around me now. I've been eating, breath and living boxing and it showed tonight."

# # #

PBC on Spike headlined by Edwin Rodriguez vs. Michael Seals was promoted by DiBella Entertainment.

For more information visit www.premierboxingchampions.com and www.spike.com/shows/premier-boxing-champions, follow on Twitter @PremierBoxing, @LaBombaBoxing, @LouDiBella, @SpikeTV and @SpikeSports and become a fan on Facebook at www.Facebook.com/PremierBoxing, www.Facebook.com/DiBellaEntertainment and www.Facebook.com/Spike. Highlights available to embed at www.youtube.com/premierboxingchampions.