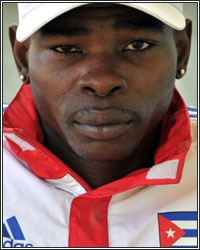 The night of Saturday, Nov. 21 is one for which many are predicting a showdown of epic proportions when Miguel Cotto (40-4, 33 KOs) and Canelo Alvarez (45-1-1, 32 KOs) do battle at the Mandalay Bay Events Center in Las Vegas. In addition to the already announced televised pay-per-view undercard bouts, warming fans up for the scintillating main event will be former WBA and WBO Super Bantamweight World Champion Guillermo Rigondeaux (15-0, 10 KOs) of Santiago de Cuba, Cuba against Filipino Drian Francisco (28-1-3, 22 KOs) in a 10-round super bantamweight bout.

The addition of Rigondeaux vs. Francisco, which is presented in association with Caribe Promotions, adds even more star power to the mega-event which will be produced and distributed live by HBO Pay-Per-View beginning at 9:00 p.m. ET/6:00 p.m. PT.

"We are thrilled to add Guillermo Rigondeaux, one of boxing's best pound for pound fighters, to what we believe is the biggest night in boxing this year," said David Itskowitch, COO Boxing of Roc Nation Sports. "On Nov. 21, fans at the Mandalay Bay Events Center and those watching at home on HBO Pay-Per-View are in store for an event that will bring them even more bang for their buck with the addition of Rigondeaux vs. Drian Francisco. It's a rare treat when three of boxing's top ten pound for pound best fighters appear on the same telecast."

"I'd like to thank Roc Nation Sports, as well as Golden Boy Promotions, Miguel Cotto Promotions, Canelo Promotions, HBO, and Caribe Promotions for giving me the opportunity to be on one of the most anticipated Pay-Per-View cards of the year," said Rigondeaux. "This is a great platform to take my career to the next level, and to showcase my talents on the big stage. While I've been sidelined for the past year, I am grateful for the opportunity to deliver a show to all the boxing fans that have supported me throughout this journey, and I look forward to delivering my best come fight night."

"I'm elated to be able to fight in Las Vegas once more and against a great champion like Rigo," said Francisco. "I want to make a statement and steal the show. I was prepared to fight this month and when the call came, I didn't think twice about it. This is a great night to be part of on Nov. 21."

Cuba's Guillermo Rigondeaux is widely considered to have been one the best amateur fighters of all time. His troph y case includes two Olympic Gold Medals (2000 and 2004 Olympics) and a seven Cuban National Championships. After amassing an astounding amateur record of nearly 475 fights with only 12 loses, Rigondeaux made his professional debut on May 22, 2009 against Juan Noriega in Miami scoring a third round technical knockout win. On Nov. 13, 2010, in just his seventh pro fight, Rigondeaux challenged Ricardo Cordoba for the vacant WBA Interim Super Bantamweight World Championship and left the ring with the belt after scoring a split decision victory. Four successful title defenses followed which included three knockouts. On April 3, 2013, Rigondeaux took on WBO and Ring Magazine World Champion Nonito Donaire at Radio City Music Hall in New York in a unification fight. Rigondeaux came away with the victory by unanimous decision after out landing and out punching Donaire throughout the fight to unify titles. In his last bout on Dec. 31, 2014, Rigondeaux traveled to Japan to face Tokyo's Hisashi Amagasa. After getting knocked down in the seventh round, Rigondeaux scored a knockdown of his own in the ninth before scoring a technical knockout victory in the eleventh round.

Born in the province of Mindoro in The Philippines, Drian Francisco is known for his powerful punches and aggressive style. After growing up in the shadow of his father Joe, a former professional boxer, the 33-year-old made his professional debut on April 29, 2005 against Jessie Caballes and came away with a second round technical knockout victory. On Dec. 30, 2006, Francisco won the WBO Asia Pacific Flyweight Title over Pichitchai Twins Gym via a seventh round technical knockout and went on to defend that title against Wanmeechok Singwancha on Aug. 4, 2007. Francisco won the vacant WBA International Super Flyweight title on Oct. 3, 2009 against Roberto Vasquez with a tenth round technical knockout. On Nov. 30, 2010 he faced Duangpetch Kokietgym in Thailand for the WBA Interim Super Flyweight World Championship and came away with an impressive tenth round knockout victory. Since that fight, Francisco has won eight of 11 bouts, including his last outing on September 6 in which he scored a first round knockout win over Jilo Merlin in General Santos City in The Philippines.

Cotto vs. Canelo, a 12-round fight for Cotto's WBC and Ring Magazine Middleweight World Championships, takes place Saturday, Nov. 21 at the Mandalay Bay Events Center in Las Vegas. The fight is presented by Roc Nation Sports, Golden Boy Promotions, Miguel Cotto Promotions and Canelo Promotions and sponsored by Corona Extra; Mexico, Live it to Believe it!; O'Reilly Auto Parts; Tequila Cazadores and Corporate Travel Made Simple (ctms). Also on the pay-per-view telecast will be Takashi Miura vs. Francisco Vargas in a 12-round co-featured fight for the WBC Super Featherweight World Championship presented in association with Teiken Promotions and Jayson Velez vs. Ronny Rios is a 10-round featherweight bout which will open the pay-per-view telecast. The event will be produced and distributed live by HBO Pay-Per-View beginning at 9:00 p.m. ET/6:00 p.m. PT.

Randy Caballero vs. Lee Haskins, a 12-round fight for the IBF Bantamweight World Championship, is presented in association with Bristol Boxing Ltd. and will be featured as part of the preliminary undercards available on digital platforms starting at 7:00 p.m. ET/4:00 p.m. PT.

In addition to the great action inside the ring, the event will feature a special live performance by 2015 Latin Grammy nominee Yandel. The performance will be produced and distributed live by HBO Pay-Per-View after the second fight of the pay-per-view telecast.

A limited number of tickets priced at $2,000, $1,750, $1,250 and $650, not including applicable service charges, can be purchased at the Mandalay Bay box office, ticketmaster.com, mandalaybay.com, all Ticketmaster locations or by calling (800) 745-3000. Ticket orders are limited to four per person.

Tickets for closed circuit viewings of Cotto vs. Canelo at select MGM Resorts International properties in Las Vegas are priced at $75, not including applicable service charges, and can be purchased at all MGM Resorts International Ticket Offices, http://www.ticketmaster.com, all Ticketmaster locations or by calling (800) 745-3000.

Miguel Cotto vs. Canelo Alvarez will be presented live with Fathom Events in select theaters nationwide. Tickets for theater screenings of Cotto vs. Canelo can be purchased online by visiting www.FathomEvents.com or at participating theater box offices. For a complete list of theater locations visit www.fathomevents.com/event/cotto-vs-canelo-live.

Sports bars, restaurants, casinos (outside of Clark County, NV) and other commercial establishments can order Cotto vs. Canelo by contacting Joe Hand Promotions at 1-800-557-4263 or visit www.JoeHandPromotions.com. Joe Hand Promotions is the exclusive commercial distributor for Cotto vs. Canelo throughout the United States and Canada.

For more information, visit www.rocnation.com, www.goldenboypromotions.com, www.promocionesmiguelcotto.com, www.canelopromotions.com.mxwww.hbo.com/boxing and www.mandalaybay.com; follow on Twitter at @RocNation, @GoldenBoyBoxing, @RealMiguelCotto, @Canelo, @HBOBoxing, and @MandalayBay; become a fan on Facebook atwww.facebook.com/RocNation, www.facebook.com/GoldenBoyBoxing, www.facebook.com/RealMiguelACotto, www.facebook.com/SaulCaneloAlvarez, www.facebook.com/HBOBoxing and www.facebook.com/MandalayBay; and follow on Instagram @rocnation, @GoldenBoyBoxing, @realmiguelacotto, @Canelo, @HBOboxing and @MandalayBay. Follow the conversation using #CottoCanelo.